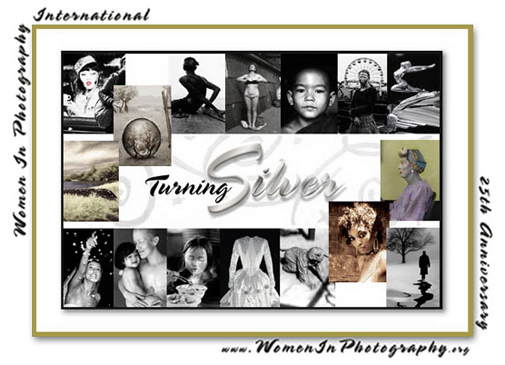 Slide Show
2006
25th Anniversary - Juror 100 & Honorable Mention
Jurors
---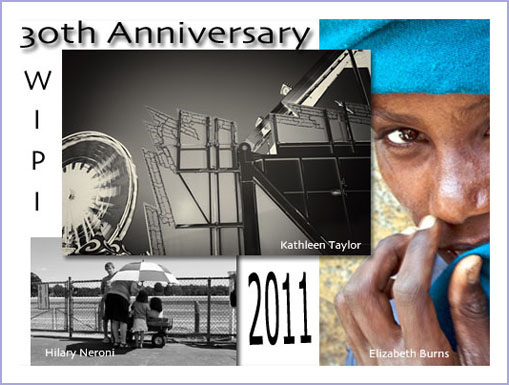 "black & white & color"
Gallery Presentation
WIPI /BEINECKE LIBRARY / YALE GALLERY SUBMISSIONS - CHARTER GALLERY - 2015 The WIPI ARCHIVE YALE / BEINECKE CHARTER GALLERY SUBMISSION 2015 is a spotlight gallery to introduce CHARTER member artists, educators, professionals and masters of photography to the university. WIPI's in-depth searchable online documentation provides a history of the organization and women's work WIPI digital and print ARCHIVE transition, 2015

... i AM woman ... i AM digital ... what we see, how we interpret and share our lives, our career with family, friends, the public and the art world using digital SLR, point & shoot cameras, cell phones and tablets in 2015., Juror Clive Waring Silvershotz, Online Gallery Curator, Jean Ferro. Eight categories Activities, Animals, Family, Friends and Portraits, Objects, Scenic, Selfies, Structures, Cell/Tablet submissons. WIPI final exhibition before transition to the Beinecke Library, Yale University, June 2015.

~ You & Your Camera ~

WIPI Display Collage Art image for Photo Independent Art Fair 2015
- May 1 -3, 2015
it's about You ... put yourself in the picture, Photo Independent. The world of photography will set its focus on Los Angeles May 1-3, 2015 for a weekend celebrating international photography at Raleigh Studios next to Paris Photo Los Angeles at Paramount Studios. . Produced by Chris Davies / Fabrik Magazine,

~ You & Your Camera ~

WIPI Display Collage Art interactive installation - photo la 2015 - Put Yourself in the Picture
photo la - Jan 15-18, 2015 - Onsite interactive Wall art display
(visitors to the fair photographed themselves in the 16" round mirror overlay) surrounded by images of member and non-member women w/their cameras. 24th Annual photo la - Gallery (art work 42" width x 60" height), downtown Los Angeles at the REEF. WIPI has been a long standing sponsored participant at photo la produced by Stephen Cohen and Claudia James Bartlett
2014 -SILVERSHOTZ - International Contemporary photography magazine 2014 Features Eleven WIPI Photographers
Final Silvershotz printed collectible edition Edition 5 Volume 8,
subscription iPad & computer download available.
Lilyan Aloma . Merrie Asimow . Ivy Bigbee . Jean Ferro . Cathy Greenblat
Kathryn Jacobi . Joyce P. Lopez . Betty Press . Joanne Scherf . Wendi Schneider . Amie Vanderford,

2014 -photo l.a, - 23rd International Photographic Art Exposition WIPI Presentation Postcards - 2010 FACES Poster Revisited, January 16 19
Barbara White . Belinda Jentz . Brenda Maltese
Callie Biggerstaff . Candace Biggerstaff . Carol Henry . Carolyn Meltzer
Catherine E. Money Diane Silverman . Gloria Golden . Heather Buckley
Hilary Neroni . Ivy Bigbee . Jane Stevens Jean Ferro . Kathleen Buckstaff . Kathy Corday . Maria Coletsis . Nancy Clendaniel . Patrizia Pulga . Patsy R. Davis
Wendi Schneider . Wilda Gerideau-Squires . Winifred Meiser

2013 - Out of Focus, Juried Exhibition placement + Honorable Mention
JURORS: Claudia James Bartlett Director, Stephen Cohen Gallery / Co-Producer, Director, photo la, Cat Jimenez Co Founder, Month of Photography LA / Director, Lucie Foundation, Allegra Wilde Founder, Chief Operations Officer Eyeist, Online Photography Reviews, Jo Garden, Editor / PQ Blackwell LTD, MILKbooks, Susan Spiritus, Susan Spiritus Gallery - Winners: Tasha Barrie, Michele Zousmer, Rhonda Forsberg, Maria Errico, Heather Buckley

2013 - Annual - Juror: Daniel Miller, Duncan Miller Gallery
Laurie Freitag/1st Place, Diane Silverman/Juror Choice + Juror Choice Gallery Presentation, Barbara Pickles, Bev Pettit Edward L. Rubin, Gloria Golden, Ivy Bigbee Joan E. Bowers Kathleen T. Carr, Lee Anne White, Marguerite Garth, Merrie Asimow Rebecca Joyce, Rosa Isabel Vázquez, Wendi Schneider

2013 - photo l.a. 22nd International Photographic Art Exposition Member Print Exhibition
Callie Biggerstaff . Candace Biggerstaff . Diane Cockerill . Kathy Corday . Jean Ferro, Jane Gottlieb .Carol Henry . Cathy Greenblat . Maureen Haldeman Jamie Johnson, Jane Olin . Barbara Pickles . Diane Roter . Wendi Schneider . Diane Silverman
Member Print Exhibition & Digital Slide Show - "Transportation"

2012 - It's Magical, Images of Sunrises, Sunsets and Rainbows
Juried Competition - Winners 3 categories + Honorable Mention
JURORS: Jolene Hanson / Director and Curator of The G2 Gallery (Sunrises)
Stephen Perloff / Founder and Editor of The Photo Review (Sunsets)
Chantel Paul / Assistant Curator, Museum of Photographic Art (Rainbows)
Diane Cockerill, Barbara White, Nancy Clendaniel

2012 - WIPI - Annual Competition
JURORS: Susan Spiritus/Susan Spiritus Gallery, Hannah Sloan/ROSE Gallery
Top 10: Patricia D. Richards, Shawna Gibbs, Arkasha Stevenson, Betsy Feick, Bev Pettit, Eleanor Owen Kerr, Ellen Jantzen, Julia Kozerski, Lori Burton, Robin Ward - May 1, 2012

2012 - photo l.a, - 21st International Photographic Art Exposition,
January 12-16, 2012
WIPI Member Showcase - prints & digital onsite Slide Show "Footwear"

Curated by Candace Biggerstaff

2011 - "black & white & color" 2011
1st place, Kathleen Taylor, 2nd, Elizabeth Burns, 3rd, Hilary Neroni
JURORS: Susan Spiritus, Susan Spiritus Gallery
Stephen Perloff, The Photo Review /The Photograph Collector
Elyse Connolly, Elyse Connolly Photography Representative
2011, WIPI 30th Anniversary - photo l.a. 20th, International Photogaphic Art Exposition
photo l.a. XX + artLA projects
the 20th ANNUAL INTERNATIONAL LOS ANGELES
PHOTOGRAPHIC ART EXPOSITION & ARTLA PROJECTS
WIPI Member showcase, curated by Carol Henry
January 13-17, 2011

2010 - FACES Juried Exhibition
1st Place Jaeycyne Howell, 2nd Place, Betty J. Schluete
Sarah Hughes, Editorial Photo Agent
GETTY IMAGES / New York
Keith Milton, Owner/Director
PHOTOGRAPHERS' GALLERY / Los Angeles, CA
Sophie Mörner, Photographer/Founder/Publisher
CAPRICIOUS PUBLISHING & MAGAZINE, Brooklyn, New York
See LARGE Scale exhibit poster image 7x13" 150dpi
http://womeninphotography.org/Events-Exhibits/2010_competition/faces-WIPI-large.html

2010 - A DECADE OF IMAGES 2000-2010 Juried Competition
2 placement winners, Brenda Oelbaum, Cara Barer +100 Honorable Mention
jurors: Elizabeth Houston, Director, Hous Projects / New York City
Pamela Shoenberg, DNJ Gallery / Los Angeles, CA
Laurie Frank, Frank Pictures Gallery / Bergamot Station, Santa Monica, CA
Mary Goodwin, Associate Director at Light Work/ Syracuse, New York
Melanie Light, Executive Director, Fotovision / Berkeley, CA


2009 - SUMMER WIPI Juried Competition
3 placement winners, Sarah Bones, Heidi Harding, SM Berry,
3 categories, Children, Flowers,
25 Honorable Mention each category
jurors: Carol McCusker, PhD - Curator of Photography / (MoPA),
Museum of Photographic Arts San Diego, CA
Margot Shaw, Founder/Editor in Chief, FLOWER MAGAZINE
Modernbook Gallery, Palo Alto, California, Bryan Yedinak, Co-owner/ Publisher/Gallery Director & Niniane Kelley, Associate Gallery Director


2009 - WIPI Juried Competition
3 placement winners, Susan Liebold, Sarah Bones, Laura Bennett
3 categories, Landscapes, Family Gatherings, Self-Portraits.
10 Honorable Mention each category
jurors: Audrey Jonckheer /Worldwide Pro Photographer Relations. Kodak
Sarah Leen /Senior Photo Editor, National Geographic Society
Jean Ferro Photo Artist /President, Women In Photography International

2008 - WIPI Juried Competition
3 placement winners, Daro Sulakuri, Jo Ann Walters, Denise Dee
Top 10 and 40 Honorable Mention, Dec. 2008
jurors Karen Sinsheimer, Curator of Photography, Santa Barbara Museum of Art
Stephen Perloff, Founder, The Photo Review, Philadelphia, PA
Steve Zeifman, Owner, Rush Creek Editions, Santa Fe. New Mexico
Jessica Johnston, Curatorial Associate, Department of Photographs,
George Eastman House/Int'l Museum of Photography and Film Rochester, NY

2007 - WIPI Juried Exhibition
Top 10 Winning images and 25 Honorable Mention
jurors: Andrea Bakacs, Photographer | Senior Photo Editor, Martha Stewart Living, Everyday Food, Special Issues and Books, NYC • Paul Kopeikin, Owner, Paul Kopeikin Gallery, Los Angeles, CA • Royce Bair, Photographer | President, The Stock Solution, Inc. • Tim Anderson, Photographer | Publisher | Managing Editor, CameraArts Magazine CameraArts, Fine Art Magazine


2007 - The Portrait Juried Exhibition
The Top 25 & Honorable Mention Winners - Dec. 2006
jurors: Susan Spiritus, Gallery Owner / Newport Beach, CA • Julian Cox, Curator of Photography / High Museum of Art / Atlanta, GA • Sasha Erwitt, Senior Associate Photo Editor, Vanity Fair / Conde Nast Publication / NY • Carol McCusker, PhD - Curator of Photography / Museum of Photographic Arts (MoPA), San Diego, CA • Jason Murison, Director, P.P.O.W Gallery / Pilkington. Olsoff Fine Arts, Inc. / New York City

2006 - Turning Silver - 25th Anniversary Juried Exhibition
100 Juror choice images and 72 Honorable Mention
jurors: Kim Gougenheim/"O" The Oprah Magazine • Catherine Edelman Gallery • Joyce Tenneson • Jean Ferro/PhotoArtist/WIPIRose • Shoshana/Rose Gallery • Andrew Smith Gallery • Susanne Konig/The powerHouse Gallery • Laurie Kratochvil • Scott Mc Kiernan /ZUMA Press • Stephen Perloff/The Photo Review. 150 Limited edition books shipped to Juror Choice 100 winning photographers, jury panel, Museums, University and Public Libraries worldwide.

2005 - BEAUTY, Camera Eye of the Beholder Juried Exhibition
jurors: Architecture magazine • Tyra Banks • Deutch Inc/NY • National Portrait Gallery/London • AGE Fotostock/ Barcelona • Getty Images • National Geographic • Museum of Photographic Arts • Glamour magazine • Communication Arts.

2005 - Decisive Moments Juried Exhibition
A reminiscence by Martine Franck, photographer & wife of Henri Cartier-Bresson: "Henri was always immensely supportive as a photographer. He taught me how to say "No" gracefully and to follow through all projects right to the end.
jurors: Sue Brisk/Magnum Photos, • Howard Greenberg Gallery, Lesley Martin/Aperture Foundation, • Galerie Esther Woerdehoff / Paris, France


2004 - virtual * visual Juried Exhibition
jurors Seventy-four juried images by female photographers, professional and amateur, using any photographic process. The exhibit reflects a variety of work from fine art to photojournalism to commercial photography: "virtually everything" women photograph.

2004 - photo l.a. 13th International Photographic Art Exposition WIPI Member portfolios
photo l.a. click on images to see main gallery
Six Portfolios • Michele Dugan • Jean Ferro • Stephanie Flack • Freyda Miller • Elizabeth Opalenik • Juanita Richeson

2003 - photo l.a. 12th International Photographic Art Exposition, WIPI Member Print exhibition images
Thirty Member presentation at photo l.a., largest and longest running photographic art exhibition in the West of galleries and private dealers.

2002 - WOMEN IN PHOTOGRAPHY INTL - photo l.a, 11th International Photoglraphic Art Exposition. Tea Time Print exhibition images
photo l.a. presentation of the WIPI's 20th Anniversary Exhibition Tea Time images. Auction photos contributed by Ruth Bernhard, Joyce Tenneson, Tea Time winning photographers, sponsored in part by Stephen Cohen

2001 - TEA TIME: WIPI's 20th Anniversary -
"International Tea Time: Images of Women, Images of Tea."
Juried Exhibition The teapot theme for the juried exhibition was inspired by Linda McCartney and is included with the 75 stunning images from 63 women artists from around the world, representing countries such as Australia, Canada, England, Greece, Italy, Kuwait, Scotland, the USA and others.

©Linda McCartney "Tea Pot"



1999 - ARCHIVE FEATURE: 1999-2000 ARCHIVE
WIPI's transition from paperbound to Online web presence.
Images from the previous gallery's and WIPI feature stories.

ARCHIVE LIST of past WIP newsletter, which contain galleries and f2-eZine articles starting with our premiere issue December 1999.