Posted 1-15-03

Peter Palmquist Peter Eric Palmquist, (September 23, 1936 - January 13, 2003) author, historian and founder of the Women In Photography International Archive, died January 13, 2003, in Oakland, California at the age of 66


Peter Eric Palmquist Peter Eric Palmquist died January 13, 2003, in Oakland, California at the age of 66. While out walking his dog, Max, in Emeryville, he suffered a severe head injury after a speeding car struck him in a crosswalk on January 11. He never regained consciousness and died surrounded by his family.

Born in Oakland on September 23, 1936, Peter and his parents moved to Ferndale in the fall of 1944. He attended Williams Creek School, a one-room schoolhouse where total enrollment was eight students, and graduated from Ferndale Union High School in 1954, along with 26 classmates. As a teenager he hiked the surrounding hills and, with two friends, climbed to the top of Mt. Shasta. He was an avid tennis player, learned fly-tying for trout fishing adventures, and explored the tactile mysteries of amateur woodworking. He drove the racetrack water truck for the Humboldt County Fair and as a Boy Scout, he earned many merit badges and was designated a, Life Scout. As an adult, he was known for his quiet demeanor and great sense of humor, and especially, for his outrageous puns.

Peter was a professional photographer for more than 50 years. He enlisted in the United States Army where he worked for Supreme Headquarters Allied Powers Europe (SHAPE). Stationed in Paris, he photographed many heads of state as well as famous stars of stage and screen. In 1957, while overseas, he married Sally Forward, of London, England. After his enlistment ended in 1960, they returned to California with their young family.

Peter graduated from Humboldt State University with a B.A. in Art while serving as the university photographer. He retired in 1989 after 28 years in that position. He had also supplemented his income during that time by photographing over 750 weddings in Humboldt County, and doing other commercial photography.

In 1971, Peter stopped by an antique store in McKinleyville, where the owner asked him what he collected. His response? "Nothing." She asked him what he did for a living. When he explained he was a photographer, she gave him "a fist full" of old photographs, taken by local photographers completely unknown to him. The rest is history.

That fistful of photographs blossomed into a passion and an obsession. At his death, he had amassed more than 150,000 images, including scores of rare images from the earliest days of western American photography and some 50,000 photographs documenting more than 100 years of history in Humboldt County, California. With tremendous enthusiasm, he recently transferred his extensive collection of images and research materials to the Beinecke Rare Book and Manuscript Library at Yale University.

For thirty years, Peter was an independent historian of photography. His principal interests were the American West, California before 1950, and the international history of women in photography. He liked to say that his most recent project, in collaboration with Suzanna Urminska, was an intergalactic study of women photographers before 1871. He curated scores of exhibitions and delivered hundreds of lectures on these subjects, and also served as a consultant and researcher on such projects as Ken Burns's television documentary, "The West." He was the founding editor of the "Daguerreian Annual," past president of the National Stereoscopic Association, and founder and curator of the Women in Photography International Archive. Peter consulted for countless museums and libraries including the Getty Museum, The Huntington Library, the Amon Carter Museum, and the Bancroft Library, and was respected throughout the photographic community as a generous and collaborative historian.

A resourceful and indefatigable writer, Peter published over 60 books and monographs and 340 articles. He wrote and lectured extensively on California photographer Carleton E. Watkins. In 2001, he and Thomas R. Kailbourn won the Denver Public Library's prestigious Caroline Bancroft Western History Prize for their book, Pioneer Photographers of the Far West: A Biographical Dictionary, 1840-1865 (Stanford University Press, 2000). At the time of his passing, Peter and Thomas had just completed the manuscript of the second volume of his Pioneer Photographers, a series that he hoped would eventually include all of the United States.

"For more than a quarter of a century, Peter pursued with rare passion the history of photography in the nineteenth-century West," said George Miles, Curator of Western Americana at the Beinecke Library. "The result is an extraordinarily rich collection that tells us how photography insinuated itself into every aspect of American life. I'm unaware of anyone else who lived and breathed the history of photography as Peter did. He made his collection to share with others, not to hide away. We feel privileged that we will be able to contribute to fulfilling his goal."

Martha A. Sandweiss, Professor of American Studies and History at Amherst College commented: "Like the best of friends, Peter inspired through his generosity and support; like the best of teachers he inspired through example. What Peter cast into the world, through his books and through his spoken words, will long reverberate with his friends and colleagues. He established new ways of pursuing the history of photography, and with his collections and research notes soon to be accessible at Yale, he will be speaking to and inspiring new generations of students and researchers forever."

Locally, Peter was on the Board of Directors of the Clarke Memorial Museum and the Humboldt Historical Society for many years. He was elected to the Board of Directors of the Humboldt Arts Council in 2001, and he was enjoying his involvement there tremendously.

He was an avid backpacker, and he especially enjoyed leading trips for the AFS foreign exchange students. He loved working in the garden and renovating his home. He and his brothers took great pleasure in working together on their cabin in Trinity County to prepare for gatherings for family and friends. In recent years, he and his lifetime companion, Pam Mendelsohn, traveled extensively to such places as Corsica, England, France, Italy, Malta, and throughout the United States. In June, he, Pam, and his stepdaughter Rebekah spent two weeks in Japan as the guests of their foreign exchange student, Mina Tomioka. In the past few years, Peter took up his camera again and was preparing for a retrospective of his own work in 2005. His stepdaughter, Rebekah Burgess, who chose to follow in his footsteps and is currently getting a PhD in photographic history, will curate that exhibition.

Peter took enormous pleasure in his family. He will be sorely missed by his partner of 26 years, Pam Mendelsohn. The couple had planned to marry in April, and to host a wedding celebration in July. He leaves a great void in the lives of many: daughter Alison Mary Lander and her husband Michael of Tumwater, Washington; daughter Elizabeth "Libby" Palmquist-Cochran and her partner Andy Cranfill of Freshwater, daughter Anna Louise May and her husband, Garland "Butch" of Eureka; stepdaughter Rebekah Elizabeth Burgess of Cambridge, Massachusetts; brother John Frederic Palmquist of Arcata; brother Carl Edward Palmquist and his partner Janina Shayne of Arcata; grandson Erik Michael Jonte and his wife, Lisa, of Palo Alto; granddaughter Amanda Alison Jonte of Tumwater, Washington; granddaughter Sarah Marie Barnes of Eureka; granddaughter Amy Lee Barnes and her partner, Javier Euevan of Eureka; niece, Erin Jessica Palmquist of Berkeley; former wife Sally Palmquist of Surrey, England; former son-in-law David Cochran of Eureka; and his beloved Corgi, Max, of Arcata and Emeryville.

He is survived by uncles: Gerald Ernest Evans of Fortuna; Clarence Everett Evans of Citrus Heights; Arthur Leland Evans of Rohnerville; Raymond Charles Evans of Olympia, Washington; and Vernon Leroy Evans of Windsor. His aunts include: Alice Margaret Brooks of Windsor and Frances Geraldine Willey of Blocksburg. He was preceded in death by his parents Carl Eric Palmquist and Blanche Lucille Palmquist, uncle George Wesley Evans of Rio Dell and aunt Ida Mae Petersen of Loleta.

He will also be missed by his collaborators, particularly Thomas R. Kailbourn, Martha A. Sandweiss, and Suzanna Urminska. A private funeral service is planned, with arrangements under the direction of Pauls Chapel of Arcata
(written by Pam Mendelshon)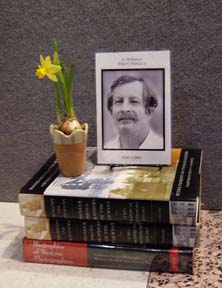 ---


Image tribute provided by Carl Mautz at photo l.a. 2003.
posted 1/15/03
In the coming weeks, we will pay tribute to Peter with letters and notices by his colleagues and dear friends. On a very personal note, words escape me and a disbelief surrounds me, I will miss him terribly since he was my silent partner in the growth of WIPI.org. We love you Peter and may you be at peace.
Jean Ferro, President, Women In Photography International
Picture gallery and message will be upload shortly.
While we were at photo l.a. 2003, we realized SPE Convention was March 20-23, 2003 so the original Tribute to Peter has been change to April 12
will be held on Saturday, April 12, 2003, 2:00 PM until 4:30PM
at the Morris Graves Museum, 636 F Street, Eureka, CA 95501.
More details to follow next week regarding hotels and direction