Update: April 29, 2017

WOMEN IN PHOTOGRAPHY INTERNATIONAL (WIPI) website and organization files - NOW held at the Beinecke Library: The WIPI ARCHIVE YALE / BEINECKE CHARTER GALLERY SUBMISSION 2015-2016 is a spotlight gallery to introduce CHARTER member artists, educators, professionals and masters of photography to the University. WIPI's in-depth searchable online documentation provides a history of the organization and women's work. Transition of Women In Photography International is now in progress and will be included in the Peter Palmquist Western Americana Permanent Collection. All materials will be available following the Beinecke renovation in September 2016. For details, visit the Beinecke renovation website. Jean Ferro - Letter from the President -

Long road, near completion. Printed matter, original compiuter, received at the Beinecke. As they were ready to launch the online it website for the international library base and we requested they recrawl the site. We realized they captured the site in April 2016 and it hadn't gone public as they were waiting for things to settle down after their reopening and planned to make announcement Spring 2017.We did a tremendous amount of work on the site for the binders to 7 libraries that shipped in mid Sept. 2016. This small window of opportunity opened up and have allowed us to do a one last revisit of our site and they will recapture it again May 2017. Since the libarary is now open and they are settling in, this will be our last promotion and opportunity to add content to the site. Deadline for DONOR Wall addition, is Sunday, Apr. 30, 5pm (PDT, Los Angeles)
Sorry for any confusion, dates, etc. This has been a very long journey, exciting and challenging. See updated president's letter above. Please keep in mind our website is over 3000 pages deep, so details and the work involved has been tremendous. Last chance to sign up for the DONOR WALL name/link info Apr. 30. DONOR WALL

PS... the University library system is not the instant gradification as is FB and other social media. Standards are high, process is like engraving, strong and preserved.

Selected Binder Content notes:

ACKNOWLEDGEMENTS:
There is a long list of members, assistants and volunteers who have been supportive of Women In Photography International and myself. Since I became president in the spring of 2000, the world wide web super highway has been a long, winding road filled with creativity, joy, challenge, growth and gratitude. I would like to thank Peter Palmquist (1936-2003) for encouraging me to take the reigns and lead WIPI into the 21st Century, and for opening the doors to the Yale University Beinecke Rare Book & Manuscript Library under the insightful direction of Curator George Miles read more.
10 UNIQUE Binders - 156 pages - includes letters, CHARTER Member Listings and Galleries, WIPI history, wipi.org homepage, programs, promotional materials, on two DVDs - given to selected Museums/Libraries. Sent September 2016 to complement the September reopening of the renovated Beinecke Library.

BINDER Contents: images of binder contents

MILESTONES 1981 - Sept. 2016
Milestone Notes: Looking Back, starting 1981 - 2016
80s In the 80s photography consisted of the classic 35mm SLR cameras, i.e., Nikon, Leica, Hasselblad, Pentax cameras and Polaroid SX70, and for many, required technical skills, knowledge of light, film types, lenses, high end strobes and lab print development.
Update: JANUARY 29, 2016

January 29, email for final submission of any new Charter Galleries as well as column update for text of exhisting Charter Gallery members to prepare final book binder of Charter Galleries for Yale inclusion as well as additional research libraries, scheduled to ship Feb. 29 Actual ship date: September 17, 2017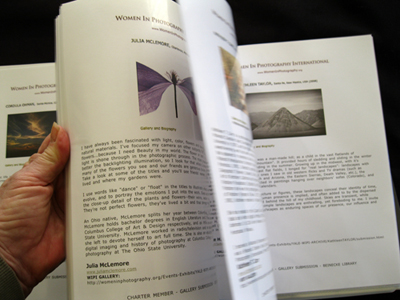 FINAL CHARTER MEMBER GALLERY - Feb. 29th Shipment:

INTRODUCTION BINDER REGISTER -
with accompaning INTERACTIVE DVD contents of full Gallery presentation
(above: condensed clips reference from YALE CHARTER GALLERY)

SHIPPED:
Dec. 21, 2015, received a copy of the WIPI acession record
June 24- end of July - Shipment to the Beinecke Library, shipped by:
www.caladex.com/Caladex LLC a leading provider of transportation management for discerning clients, primarily in the antiquarian book, map, print and decorative art fields.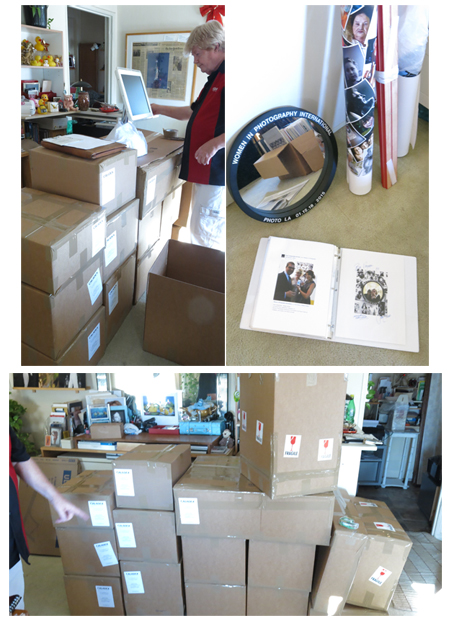 Updated, April 16, 2015
March 14, 2015 ....It's time...here we go >>>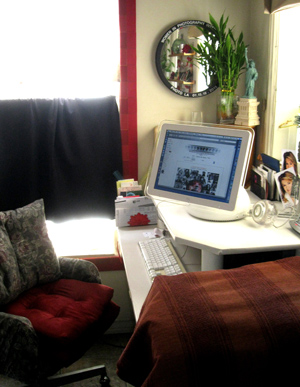 Hello,

Upcoming Changes:
It's March and just a few months to go before WIPI's archive takes flight to the Beinecke Rare Book & Manuscript Library to be included into the Peter Palmquist Women In Photography International Western Americana Collection.

It's so exciting and thrilling to know our files and history will be available for researchers, curators, scholars as well as students to showcase the progress of women photographers associated to our organization.


The Swivel iMac
Not only our backlog of physical boxes filled with files and printouts, books, promotional materials, etc. from mid-2003 to present, but also our sweet little iMac G4 swivel screen computer (800mhz, 1GB memory) that houses all our core files of submissions and programs over the years.

This beautiful vintage computer was/is so small that it is hard to believe we've been able to handle the core WIPI incoming files and outgoing mailings. Of course, backup drives and support computers (thank you WIPI CHARTER Member Joan Almond) have guided me through the internet terrain to achieve our goals. It's a real collector's item and a wonderful historical reference of our progress

Vacation & Social Media
We have lots to do over the coming months to meet our commitment of transfer. After summer vacation, we'll look at the future of social media, programs and collaborations that will continually focus a bright light on the work of women photographers worldwide.

In 1999 we were...what I would call "first kids on the block"...jumping online when so many had the mind set that people would not buy photographs online. Our original pages had small images to accommodate the browser speed. The internet grew and we grew to add to our wonderful history of onsite and online exhibitions. The time has come to look at the electronic trends and see what best serves a member-based organization.

Over the last five years, there has been dramatic changes due to social media. Many photographers have created "vanity" blogs that support their career and others. It's an internet experience that is special unto itself, not bound by the 501.c.3 regulations or organizational loyalty. There's a BIG difference between a social media site (Facebook (WIPI has 7800+ FB followers), Instagram, Twitter, Tumbler, Pinterest, LinkedIn, Google Plus, etc...+ + +) and the responsibility of a credentialed and well-established organization. WIPI circulates in a large cross section network of internet communication exchange.
Mission
WIPI has stayed true to its mission. Founded in 1981, Women In Photography International is a 501.c.3 outreach organization, which promotes the visibility of women photographers and their work. >online since 1999< history 1981 to present http://womeninphotography.org/wipihistory.html -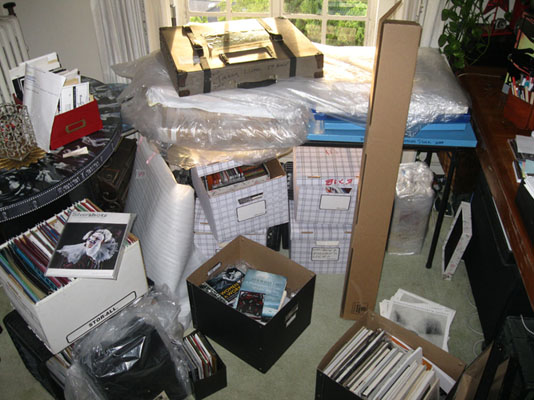 Physical files mid 2003-2015. The contents will be updated to include the
current WIPI CHARTER Gallery files and materials
(taken out of storage to sort and log for shipment)

We are very grateful that WIPI's archive is honored and preserved for research and educational programs for students and scholars at Yale University's prestigious Beinecke Library. Our documentation -- a bridge between two centuries, is a valuable source containing 34 years of historic segments of growth and recognition of women photographers work. From its early grassroots community, WIPI grew into a premiere network promoting women thru the early printed informative f2 newsletter and transitioned to the worldwide web's super highway in October 1999 to expand outreach and visibility, joining a global community. Our website now in 2015, over 3000 searchable pages deep.

I first came on board as a WIP Advisory Board member in 1988 after meeting WIP Director and photojournalist Nancy Clendaniel. Nancy and I became close friends (and still are). Together we've gone from the familiar analog visual dialog to the ever changing digital world of photography and electronic communication. Sometimes it's a roller coaster ride, other times a joy ride ...often challenging and definitely worthy!


Membership Changes

To prepare for the transition, our PROfessional, General and Student membership is now closed to new members. Anyone can contribute to our DONOR WALL to show their support for our growth. Current members can still upgrade to CHARTER.
We will keep open CHARTER Supporting members as we go through our transfer process. Registration is open gallery files must be completed by May 1st. Once you are registered you will receive the page information for file submission. See current galleries as an example. WE ARE LOOKING FOR supporting and sponsorship members or donations.

The CHARTER Member WIPI / YALE / Galleries, are a stunning presentation of members work and biographical background to introduce Yale scholars to the talented women who have been associated to WIPI in programs and exhibitions over the years in a variety of career paths in photography.

UPDATE: 3/31 WIPI will be creating a catalog with one page per Gallery member with their 1st image plus contact info and a list of any materials submitted. The catalog reference w/contained DVD (DVD will have all the gallery files) will be for future submissions of the group to add to their archive starting sometime late 2016. Catalog will also be distributed to additional facilities as a reference of WIPI files held at the Beinecke Rare Book & Manuscript Library at Yale University.
PHOTO LA -2015

We had an exceptional photo la 2015. January 15-18th. Our photo installation was a grand success. We were in a perfect location and had a constant flow of people photographing themselves and sharing the work on social media. WIPI's installation "Put Yourself In The Photo" installation was probably one of the most photographed artworks at the show. We were a wonderful spotlight, inviting visitors to participate in the visual exchange and walk away with a memorable picture of themselves interacting with the photo art work. Thank you photo la founder Stephen Cohen, Director Claudia James Bartlett and Kat Sambor! Our online gallery pages contain 62 Self-portraits including several of our past Distinguished Photographer Awardees images.
(center l – r) Sharyn Keller, Jean Ferro
THANK YOU EVERYONE who participated in photo la 2015 WIPI onsite and online Gallery and our Facebook documentation. If you stopped by our photo art installation and took a photo, please post to our Facebook page!

THANK YOU to our CHARTER Members for providing a beautiful example of strong portfolios and biographies to be included in our historical documentation. Good work!

Extra special thanks to Graphic Designer, Sharyn Keller, since 2001 has worked side by side with me to develop programs, handle competition files, hang shows, move WIPI materials, a great friend and valuable WIPI asset.

Past Director and dear friend, Nancy Clendaniel and I have remained friends after her move to Washington State in 1990. Her contribution to WIPI's history has been a shinning light on the early years of the member based outreach. We've had long and varied conversations of WIPI"s history and progress and many funny stories about our lives as photographers...we're both from the Philadelphia area. she Chestnut Hill and myself Bucks County.

And of course Thank you to so many wonderful WIPI members (will make a "long" list in the coming months to add to my Yale file), who have been the spirited women who have helped to carry WIPI forward since my presidency started in spring of 2000.

I've always been strong at ideas and creativity realize if I wait for "perfection"... nothing would happen. For me it's best to take the risk, put it out there... you can always fix it or change it later..."My life is often similar to 'an artist's proof"'...and so it goes.

FOCUS ON PEACE
With gratitude,
Photo Artist / President (2000-present)
Women In Photography International
Stay up-to-date. FOLLOW WIPI on FACEBOOK
Any questions, please write to members@owmeninphotography.org

HOME PAGE
---

11/14/14 - December 2014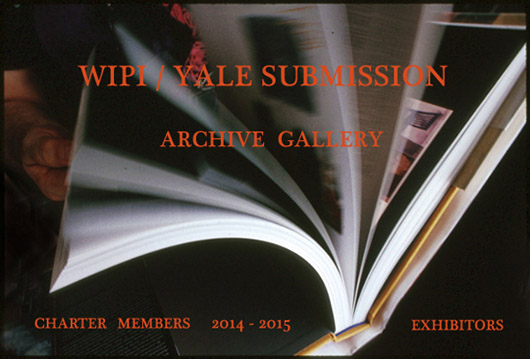 April 2014


Hello,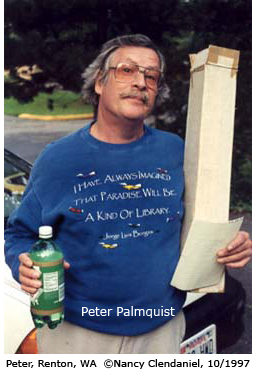 We are happy to announce that the WOMEN IN PHOTOGRAPHY INTERNATIONAL archive from mid-2003 thru Spring 2015 will be submitted to the Beinecke Rare Book & Manuscript Library at Yale University. WIPI's original
archive from 1981 thru 1992
was given to Peter Palmquist by past director Nancy Clendaniel in 1997
In 1999 WIPI began a revived status online at womeninphotography.org and continued its growth with non-stop accelerated speed on the super highway of the worldwide web. Our pages showcase women's work from around the globe through exhibitions, feature stories and juried competitions.
We've expanded from the website which is over 3000 pages of historical and current information about women's photography work to include social media including
Facebook
and
Twitter
to accommodate the changing patterns of communication to display and promote the work of WIPI members.
We are at a new growth stage of preparing our files from 2003 thru 2015 to be included in the Women in Photography International archive held at the Beinecke Rare Book & Manuscript Library at Yale University in mid 2015. Our original files are included in the Peter Palmquist Western Americana Collection that was transferred to the Beinecke after Peter's untimely death in January 2003. Tribute to historian Peter Palmquist.
It's an incredible honor and opportunity for the organization to have our archives preserved in an environment that reaches the world through such a prestigious library to accommodate scholars, writers, researchers, students and anyone interested in the visual arts. WIPI has put together a SHOWCASE CHARTER Gallery to present to Yale, it's alumni, staff and those interested a cross section of women working today in the many facets of photography and the moving image.

Please visit our CHARTER | YALE | GALLERY to enjoy the work and history of the women of Women In Photography International.

Please feel free to dive in and check out the best of our photographers who participated in annual competitions, feature stories, special projects, photo la and photo independent. These programs were made possible through the generous support of our members and sponsors who helped us achieve our goals.

Will write more late...back to the CHARTER MEMBER GALLERY PRESENTATION for now.
FOCUS ON PEACE,
With gratitude,
Jean Ferro
Photo Artist / President
Women In Photography International

BE A SUPPORTER WITH YOUR CHARTER MEMBERSHIP - JOIN WIPI
President's letters, Starting July 2000 WIPI News archive