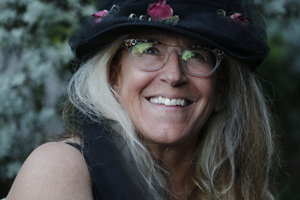 SARA TERRY

Sara Terry has focused on post-conflict storytelling as a documentary photographer and filmmaker since 2000, when she transitioned from print and public radio journalism into long-term visual projects. During this period, she has produced two well-received main bodies of work, "Aftermath: Bosnia's Long Road to Peace," and "Forgiveness and Conflict: Lessons from Africa," which have earned several awards, including a 2012 Guggenheim Fellowship in Photography.

As the founder and director of The Aftermath Project, a non-profit grant-making and educational institution, she has been widely recognized for crafting badly-needed conversations and coverage about the aftermath of conflict, based on the understanding that "War is only half the story." For her work with The Aftermath Project, she was given the 2008 Humanitarian Award by the Lucie Awards, and the Rising Star Focus Award from the Griffin Museum of Photography in 2007.

Terry is also an accomplished documentary filmmaker. Her first film, Fambul Tok, about an unprecedented grass-roots reconciliation program in post-conflict Sierra Leone, was supported by the Sundance Documentary Institute, and has won several awards. After its premiere at SXSW Film Festival in 2011, Fambul Tok enjoyed a long, world-wide festival run and continues to screen today.

Creative, visionary storyteller with 35+ years of award-winning experience in every medium of journalism. Change agent in the profession, dedicated to broadening conversations and creating opportunities for others. Experienced in national and international coverage, with a focus on social justice and post-conflict issues. Engaged in teaching visual literacy and critical thinking. Guggenheim Fellow in Photography 2012. Visual, verbal, passionate.

WORK EXPERIENCE:

LEADER

Founder and Artistic Director of The Aftermath Project (www.theaftermathproject.org), a non-profit grant and educational program that supports photographers covering post-conflict stories and disseminates their work. Responsible for creating the organization, branding, building partnerships, overseeing annual grant competition and book publication, developing new conversations in the photojournalism and documentary photography worlds about the importance of aftermath issues. 2003 – present.

CREATOR/STORYTELLER

Documentary photographer and filmmaker since 2000. Photography has appeared in several news outlets, including New York magazine, Fortune, Stern, The New York Review of Books, the New York Times Lens-Blog, Newsweek (Japan) and Glamour. Formerly a staff writer for The Christian Science Monitor and then magazine freelance writer whose work appeared in The Boston Globe Magazine, Fast Company, The New York Times Magazine, The New York Times and Rolling Stone. Founding reporter for the Monitor's public radio program, MonitoRadio.

Director and producer of two-feature length documentaries:

* Fambul Tok, www.fambultok.com (supported by the Sundance Documentary Institute; world premiere, SXSW Film Festival 2011; broadcast on EPIX, 2012; DVD distribution by First Run Features).

* FOLK, www.FOLKdocumentary.com (funded solely through crowd-funding and individual donations; world premiere Nashville International Film Festival, 2013).

Frequent public radio guest host for national public radio program, "To the Point" produced by KCRW, Santa Monica, from 2000 to 2014.

Member of the International Cinematographers Guild (Local 600)/still photographer.

STORY CONSULTANT/GRANT-WRITER

Consultant for documentary filmmakers and documentary photographers, writing grant proposals, synopses, treatments, and strategizing audience engagement campaigns.

Audience outreach coordinator for Good Pitch Chicago 2015.
TEACHER

Teacher training, classroom work and curriculum development with Facing History and Ourselves, based on visual literacy and aftermath issues, using the work of The Aftermath Project.

Workshop designer and leader, "The Community Storytelling Project," a year-long photography workshop at Venice Arts, Venice, CA

Organizer and lead teacher of photography workshops with students from Tufts University, examining aftermath issues in northern Uganda, India, Houston and Pine Ridge Indian reservation, often in collaboration with local community members. Other workshops include "Finding Your Visual Voice" at Shakerag Workshops, Sewanee, TN.

SPEAKER

Selected talks include: TEDx Nashville ("Storytelling in a Post-Journalism World"); the Annenberg Space for Photography ("War: Witnesses to Photography"); the Jimmy Carter Library; Marquette University (Peacemaker in Residence); the Chicago Humanities Festival; the Society for Photographic Educators.

FUNDRAISER

Experienced fundraiser in grant-writing and crowd-funding. Obtained approximately $700,000 in grants from donors such as the National Endowment for the Arts, Open Society Foundations, the Compton Foundation, the Sundance Documentary Institute, Chicken and Egg, etc., and in grants/fellowships for personal projects. Creator and manager of four successful Kickstarter campaigns, totaling $96,000.

AWARDS - Photography:

-Guggenheim Fellow 2012
-Humanitarian Award, Lucie Awards 2008
-Rising Star Focus Award, Griffin Museum of Photography 2007
-Alicia Patterson Fellowship for "Aftermath: Bosnia's Long Road to Peace," 2005.
-Finalist, Alexia Foundation Award, for "Aftermath: Bosnia's Long Road to Peace," 2003.
-Grand Prix Jean-Louis Calderon, 17th annual SCOOP and News Festival (for a selection of photos from "Aftermath: Bosnia's Long Road to Peace"), Angers, France. Nov. 2002

Print and public radio:
Overseas Press Club (2), Sigma Delta Chi (1), Corporation for Public Broadcasting (2), Clarion/Women in Communication (2).

Other:
Featured as one of the ten best women journalists in the United States in the book, "Women on Deadline: A Collection of America's Best," Sherry Ricchiardi and Virginia Young, Iowa State University Press.

MONOGRAPHS:

"Fambul Tok," Umbrage Editions, 2011
"Aftermath: Bosnia's Long Road to Peace," Channel Photographics, 2005.
BOOK COMPILATIONS:

"The Mercy Project/Inochi," Mado-Sha Publishing, Tokyo, October 2010.
"In Search of Hope: the Global Diaries of Mariane Pearl," PowerHouse, New York. November 2007
"Traum und Trauma," Fotos fur die Pressefreiheit, Berlin. May 2007

EXHIBITIONS (Selected list):

September 2014 -- Slideluck Amsterdam, Group show, Foam Museum, Amsterdam
November 2012 – War/Photography, Group show, Museum of Fine Arts, Houston
September 2011 – Solo show, Carlos Gallery, University of the South
July - Sept 2011 – Group show, Museum of Modern Art, Rio de Janeiro ("Photographs from the Collection of Joaquim Paiva)
July 2011 – Solo show, Blue Sky Gallery, Portland, OR
May 2011 – Solo show, Umbrage Editions, Brooklyn, NY
March 2010 - "Discoveries," curated group show, Fotofest, Houston,
Slideluck Potshow XIV, "Outside In," curated group slideshow, Aperture Gallery, New York
Feb-March 2009 – Solo show, The University of the Arts, Philadelphia
June 2008 – photographers:network – selection 2008 (curated group show), Siegen, Germany
June 2007 – Solo show, Leica Gallery, Solms, Germany
June 2007 – Exhibition of Photo Books (one of 50 books, juried show) at the Festival of the Photograph
June – July 2007 – Solo show, Center for Contemporary Arts, Abilene, Texas
November 2006 – Solo show, Society for Photographic Educators, Western Division, Orange Coast College, California
January - March 2006 – Solo show, Museum of Photography, Antwerp
December 2005 – Group show (juried) Moving Walls, Open Society, New York and Washington DC
November 2005 – Solo show, Ziraat Bank, Istanbul
October 2005 – Center for Eastern European Studies, University of Michigan, Ann Arbor, solo show (ran concurrent with CREES conference on tenth-anniversary of the Dayton Peace Accords)
July 2005 – Solo exhibition, Missouri History of Museum. (concurrent with conference on the tenth anniversary of the Srebrenica massacre)
July 2005 –Group exhibition (juried), United Nations (concurrent with observance of tenth anniversary of the Srebrenica massacre)
July 2005 – "Focused" group show (juried by Mary Virginia Swanson), Photographic Center Northwest, Seattle
January 2005 – Solo show, RACOON (Reconciliation and Cultural Cooperative Network), New York.
2004 – 2005 – Group show (juried) Blue Earth Alliance at: Washington State Convention Center (Seattle); White Gallery (Portland State University, Oregon); Old Redmond Schoolhouse Community Center (Washington); Chase Gallery/Spokane Arts Commission (Washington).
October 2004 – Solo show, Bapst Fine Art Library, Boston College, Boston (exhibition ran concurrent with tenth anniversary conference of the Center for Balkans Development)
July 2004 – "Visual Proof" group show (juried by Roy Flukinger), Photographic Center Northwest, Seattle.
October 2003 – Solo show, first Bosnian Film Festival, New York (exhibition ran concurrent with film festival)
July 2003 – Solo show, Stolac Arts Festival, Bosnia and Hercegovina.
March- September, 2003 – Solo show, Chrome 'n R studio, Los Angeles, CA
August 2002 – Group show, Blue Earth Alliance, Benham Gallery, Seattle, WA
Sara Terry (personal work and archives, Local 600 work)
Forgiveness And Conflict: Lessons from Africa (my Africa/Guggenheim work)
The Aftermath Project ("War is Only Half the Story")

UPDATE - Photographer response NO new update - DECEMBER 2014 - APRIL 2017

-------- Original Message --------
Subject: Re: CHARTER GALLERY - curator Beinecke
Date: 2017-05-04 14:31
From: Sara Terry <saraterry13@gmail.com>
To: WIPI-CHARTER <members@womeninphotography.org>

Hi Jean --
I'm sorry I haven't responded, but I'm really not sure what I was
supposed to say? I know I completed all these materials quite a
while ago. For me, the wording of the emails over time has been filled
with "last chance" and so many other details that haven't applied to me,
that I've just set them aside because I know there wasn't anything
more for me to do.

I apologize if I've seemed indifferent by not responding -- I just
figured everything was good on my end, and your emails didn't seem
to require any action from me. And given the overwhelming amount of
details I've had to deal with re The Aftermath Project, etc, and a
million other things in my life, perhaps I haven't been as attentive
as I've needed to be.

So, again, my apologies and my appreciation, my great appreciation!,
for what you have done.
Warmest,
Sara

Women In Photography International Charter Member


Sara Terry
Los Angeles, CA 90034
saraterry13@gmail.com
www.saraterry.com

©Copyright for all images remains the property of exhibited photographer and promotional use for Women In Photography International. All inquiries regarding use of and purchasing image use rights must be directed to the photographer.

File GALLERY & BIO complete December 22, 2014
Registered 4/6/2015 - sending Aftermath books
Updated 4/15/2015, bio, images
UPDATE - Photographer response NO new update - DECEMBER 2014 - APRIL 2017


UPDATE FINAL: May 2017 website content 1999-2017
womeninphotography.org file transfer to the Beinecke.
All organization files, computer, external hard drive, printed materials, photographs,
DVDs, books, competitions files and onsite installation art work


Updated 5/11/2015 series of Aftermath project books "War" (7 books)