Women In Photography International Distinguished Photographer's Award

Presented in collaboration with the LUCIE AWARDS - NYC , Oct. 2004

Sylvia Plachy

The Awards Backstage, page 1
The Presentation, page 2
Adrien Brody Video Clip - page 3
The Private Party, page 4
Full list of winners and presenters

S Y L V I A P L A C H Y



"My father often walked ahead alone, deep in thought, his state of mind one could only guess at. I, on the other hand, have always liked to linger and watch unseen, to take my pictures without confrontation, to look at backs and imagine what's inside."
F O R I M M E D I A T E R E L E A S E

SYLVIA PLACHY HONORED BY WOMEN IN PHOTOGRAPHY INTERNATIONAL AT THE 2ND ANNUAL LUCIE AWARDS PRESENTATION IN NEW YORK CITY, October 18, 2004 AT AMERICAN AIRLINES THEATRE

Contact: WOMEN IN PHOTOGRAPHY INTERNATIONAL
(323) 462-1444

Los Angeles, CA. September 14, 2004 - Women In Photography International (WIPI), a non-profit organization established in 1981, is proud to announce Sylvia Plachy as the winner of its Distinguished Photographer Award 2004. Together with International Photography Awards (IPA) and its Lucie Awards, WIPI bestows this high honor annually to women who exemplify the highest standards and dedication to the art of photography.

Past honorees have included Eve Arnold (1983), Ruth Bernhard (1984), Judy Dater (1985), Marion Post-Wolcott (1986), Linda McCartney (1987), Mary Ellen Mark (1988), Ruth Orkin (1989), Joyce Tenneson (1990), Berenice Abbott (1991), Grace Robertson (1992), and last year Annie Leibovitz. To learn more about the organization, go to www.womeninphotography.org

"Sylvia joins a list of women who are held in high esteem for their powerful and memorable images," said Jean Ferro, Photo Artist and WIPI President. "Sylvia's approach is daring, soulful and honest, a lasting inspiration to women working in photography today," she added.

Plachy, a Hungarian-born photographer,immigrated to the United States with her parents in 1958, started photographing in 1964 and over the next forty years by recording the visual character of the city along with its diverse occupants managed the not insignificant accomplishment of becoming essential to the New York photography scene.

One of her enduring subjects has been her son, Oscar winner, Adrien Brody. "From the time he was born, Adrien was my favorite subject to photograph. I couldn't take my eyes off him. Here was this vibrant little being; his emotions mirrored in his face," said Plachy.
Andre Kertesz, her mentor, friend and compatriot said of her work, "I have never seen the moment sensed and caught on film with more intimacy and humanity."

Plachy has had one woman shows at the Whitney Museum at Philip Morris, The Queens Museum and The Minneapolis Institute of Fine Arts. She also has had shows in Budapest, Ljubljana, Manchester, Berlin, Vancouver, Perpignan, Arles, and Pingyau, China. Her work is in the permanent collections of The Museum of Modern Art, The Queens Museum, The Brooklyn Museum in New York, The George Eastman House, The Center for Creative Photography at the University of Arizona, The Museum of Fine Arts in Houston, The Bibliotheque Nationale in Paris and The San Francisco Museum of Fine Arts.
Additionally Syliva is the recipient of a John Simon Memorial Guggenheim Fellowship. Plachy is a regular contributor at The New Yorker and her work has appeared in many publications, including Fortune, Grand Street, Art Forum, The New York Times Magazine, Harpers Magazine and Granta. For over eight years The Village Voice published a weekly uncaptioned, black and white photograph, of Plachy's work under the heading: "Sylvia Plachy's Unguided Tour," which later became a book of the same title, (Aperture, 1990)

Plachy's new book, Self-Portrait with Cows Going Home (Aperture September, 2004) is an intensely personal photographic journey of Plachy's childhood in Eastern Europe and a celebration of her many years of superb image making.

Joyce Tenneson, fine art photographer, WIPI Advisory Board member and the 1990 recipient of the Distinguished Photographers Award, along with WIPI president, Jean Ferro will make the presentation at the 2nd Annual Lucie Awards in New York, October 18, at the American Airlines Theatre. The Gala Event also will honor industry greats such as Gordon Parks, Sebastiao Salgado, Cornell Capa, Arthur Leipzig, Julius Shulman, Jim Marshall, Bruce Davidson, James Nachtwey, Bert Stern, Lillian Bassman, Bob Willoughby, Arnold Newman and Jay Maisel.

Special tribute previously recorded video presentations by Cindy Crawford, Jodie Foster, Andie MacDowell and Anjelica Huston for Helmut Newton and Francesco Scavullo are also planned.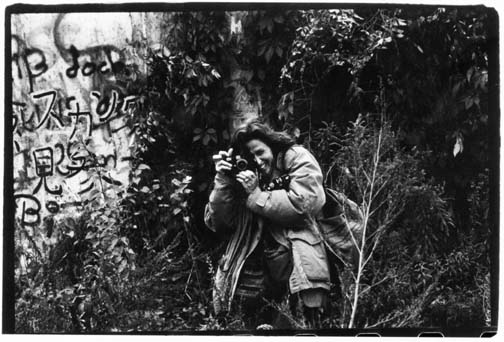 Sylvia Plachy by the Berlin Wall photo by James Ridgeway
ADDITIONAL NOTES:

1. Plachy, started photographing in 1964, when she embarked on her many visits back to Eastern Europe. Her book, published by Aperture this fall, is a compilation of those photographs and a memoir of which Jim Jarmusch said: "The small texts and remarkable images that comprises "Self portrait with Cows Going Home create a collectice map where the textures of a personal history of Eastern Europe mix fact , memory and dream. Plachy's haunted photographs are perfect in their imperfection, devoid of unnecessary weight, each one its own self portrait - but somehow from the inside out".

2. Additionally, Sylvia had been a photographer at the weekly New York City Newspaper, The Village Voice for thirty years and for eight years she had a weekly black and white photo published in that publication, near the contents page, usually without a caption. The longest running series was called, "Sylvia Plachy's Unguided Tour" (Aperture, l990), which later became a book and included an afterword by Guy Trebay and a record by Tom Waits. Another book, "Red Light" (powerHouse 1996) was a collaboration with writer, James Ridgeway about the sex industry. Her monthly column of writing and photographs in Metropolis Magazine was published as a book, "Signs & Relics" (the Monacelli Press, 1999) with a foreword by Wim Wenders. " Not since Robert Frank's THE AMERICANS have I experienced a body of work of such range and power. She makes me laugh and she breaks my heart. She's moral. She is everything a photographer should be. I've never met her, but now I have her book," said Richard Avedon.

# # #

The Awards Backstage, page 1
The Presentation, page 2
Adrien Brody Video Clip - page 3
The Private Party, page 4
Full list of winners and presenters

Sylvia Plachy articles
See: LucieAwards.com



Self Portrait with Cows Going Home 2004,
Aperture,
208 pages Hardcover,
$50
Publication date: October, 2004
press release for the book Aperture Page of Book images



Signs & Relics
Forward by Wim Wenders 1999,
The Monacelli Press,
224 pages Hardcover


Sylvia Plachy's Unguided Tour
Afterward by Guy Trebay
Music by Tom Waits 1990,
Aperture Foundation Inc.
Hardcover $100
includes "flex disc" by Tom Waits
Out of Print; limited number available


Red Light * OUT OF PRINT
Sylvia Plachy & James Ridgeway
Publisher PpowerHouse Books, 1996
£25.00 hardback * OUT OF PRINT
ISBN: 1-57687-000-6 256 pages, 109 duotones
August 31, 2001


Sylvia Plachy, an article written by PRO member Juanita Richeson
Information LINKS:
Visit Amazon for a list of books related to Sylvia Plachy

New Yorker Online slide show, posted 8/5/02

Penn Humanities Forum -2000-2001 theme is "Style." Guest curated by Professor Wendy Steiner http://www.upenn.edu/ARG/archive/plachy/plachy.html

CityPaper.net "Her Way" 5-12-2002

http://www.pipacs.hu/2b/sylviaplachy.html
Google Search Sylvia Plachy

Women In Photography International Distinguished Photographer's Award - 2004
* - Sylvia Plachy
presented by Jean Ferro, WIPI
nominees: Lillian Bassman, Lynn Goldsmith, Helen Levitt, Sally Mann, Annette Messager, Catherine Opie, Sylvia Plachy, Cindy Sherman, Carrie Mae Weems, (Mariana Yampolsky 1925-2002)
---


Women In Photography International Distinguished Photographer's Award - 2003
Annie Leibovitz

see: WIPI News Feature on Annie
and previous Distinguished Photographers Award list

International Photo Awards

Gala Event, Sunday, December 7, 2003
WIPI Photos at Los Angeles event - 2003


Women In Photography International
Distinguished Photographer's Award - 2003
* - Annie Leibovitz
presented by Jean Ferro, WIPI
nominees: Uta Barth, Lillian Bassman, Jodi Cobb, Helen Levitt, Annie Leibovitz, Sally Mann, Annette Messager, Catherine Opie, Cindy Sherman, Carrie Mae Weems, Mariana Yampolsky