Archive WIPI History starting 1981 References
EXHIBITIONS, FEATURES, OUTREACH 1999-2017
Reference archive, letters, exhibition



2016 - 10 UNIQUE Binders - 156 pages - includes George Miles letters, CHARTER Member Listings and Galleries, WIPI history, wipi.org homepage, programs, promotional materials, on two DVDs - given to selected Museums/Libraries. Sent September 2016 to complement the September reopening of the renovated Beinecke Library.

CORRESPONDENCE ESTABLISHING WIPIs FUTURE.

RE: Peter Palmquist (1939-2003)
Women in Photography International the Los Angeles based 501.c.3 that originated in 1981 as Women in Photography and changed it's name in the 1980s. Peter was supportive to launch the online advance since it WIPI was dormant from 1992 until 1999. He was one of the first advisory board members and contributed his knowledge, writings and bibliography files to our website up until January 2003. WIPI contributed files to the Palmquist collection in the late 1990s. In 2003 we again contributed prints and file information into Peter's archive which led to the opportunity to continue to consider the Beinecke as the collector of the WIPI organization under the direction of Curator George Miles.

PETER E. PALMQUIST (1936-2003)
"...Well, the real message is, that if you're passionate about anything, that's kinda what life's about. So, whatever your idea is, whatever you want to pursue, do it whole heartily and don't ever let anybody tell you, 'can't'...fine, you CAN do it." - Peter Palmquist

---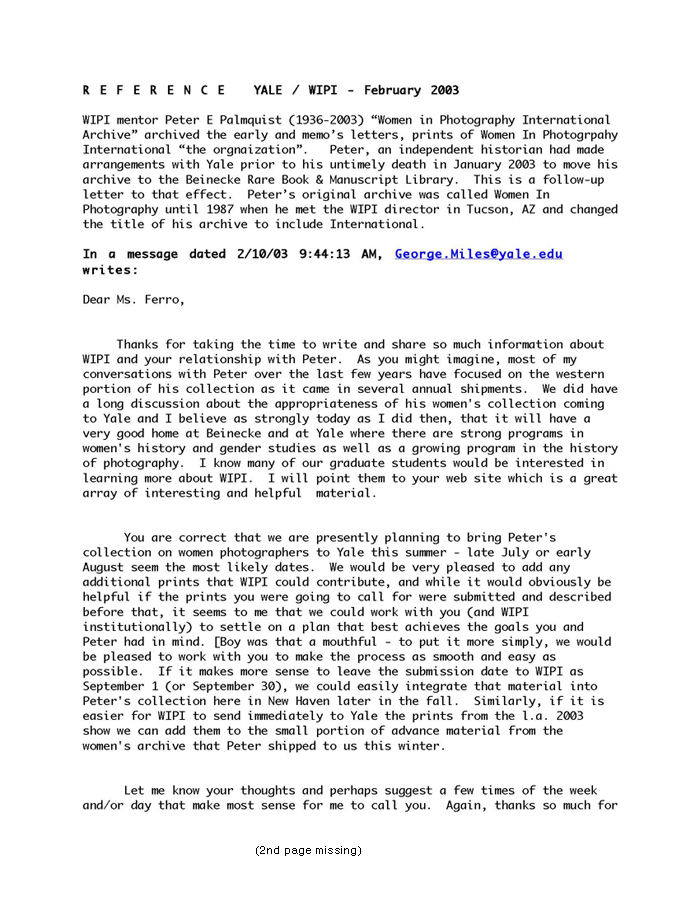 last few lines - page missing
---
WIPI was happy to provide files for Peter's archive in 2003 and to consider new horizons for women's work using the worldwide web.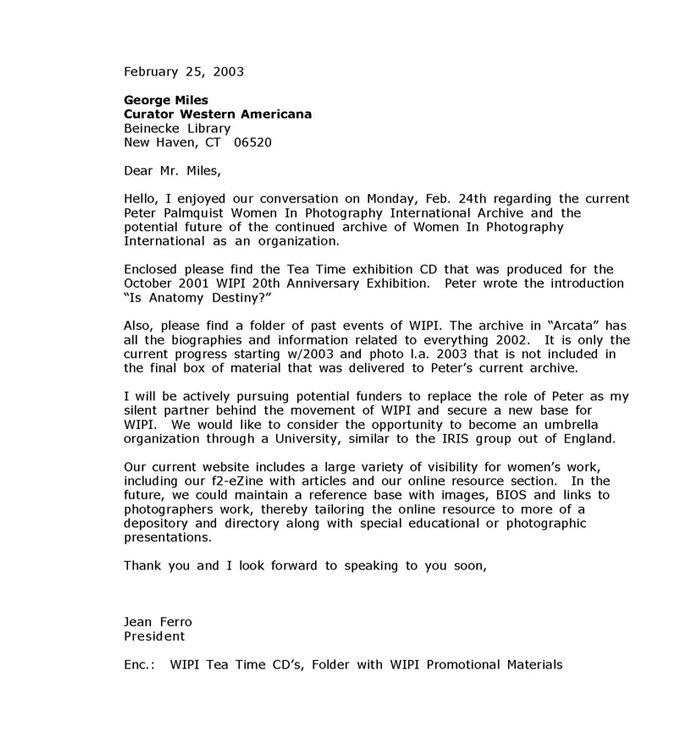 The worldwide web was a new adventure and the opportunity for WIPI a Los Angeles based organization to stretch it's wings and access the world wide web to support women's work became the focus and the content of womeninphotography.org

---
In late 1999 and early 2000 the web was at the beginning stage of growth and little did we know where it would take us. In the beginning, women were eager to promote their work now that there were ways to have international outreach from the comfort of their homes and family. WIPI as a member based organization established in 1981, provided a visual voice to showcase their work. Beginning around 2010-2011 with expanded new opportunities, blogs, personal website's, the membership became competition minded rather than group support based. Social media took hold and the world changed from in depth backgrounds to clips of information. It was soon after 2011 that We realized we needed to consider the archive as a permanent collection based within a structured university. Originally we were looking for a collaborative effort to enhance the Beinecke's collection as well as remain west coast as an organization. Over time it became evident with the growth of web communication that it was no longer necessary to think in those terms and to combine all our files into the Beinecke as it's lasting environment for education outreach.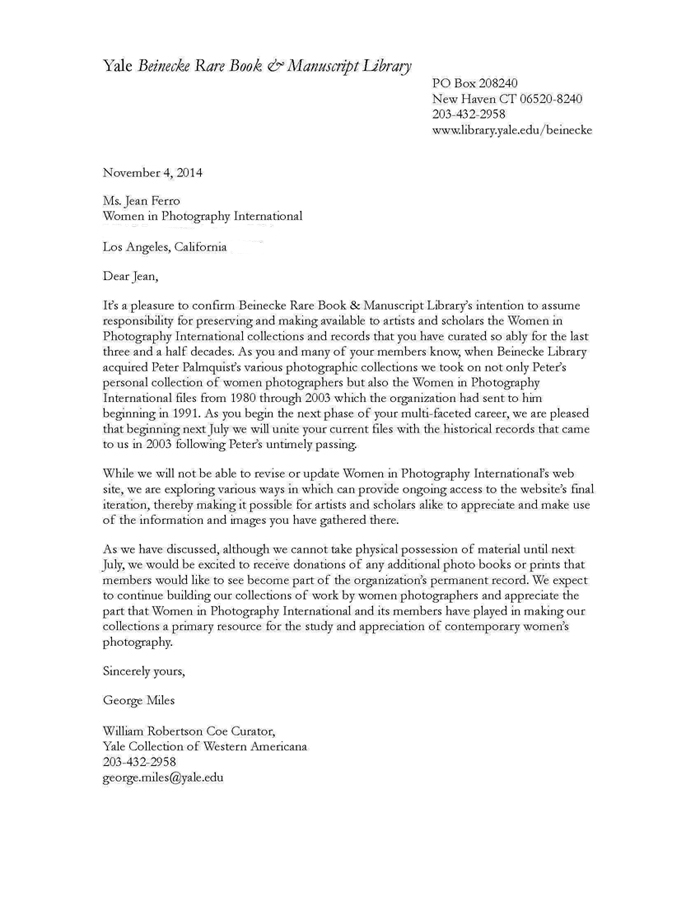 ---

The process started in early 2014 to devise a plan to provide a showcase for a group of photographers from all levels to participate as an introduction to the WIPI history, past and present. A visit from George Miles in February 2015 to assess the files was the final step to secure our transition and get the work done. As with most of our history, everything takes time. We decided to move quickly (well sorta).. to meet the deadline of June/July 2015 to ship printed materials, computer, back up materials into the Beinecke as it was closing for renovation and would not open again until September 2016. The decision to make an introductory binders became evident once we saw the scope and understood the vast background of information/projects/exhibitions of women's work WIPI the website supported. Instead of making one binder for the Beinecke, we made ten all together with six going to additional libraries to introduce our archive for research now held at the Beinecke. The binders themselves became a larger time invested project then we could have anticipated, started in the fall of 2015 and completed September 2016 as the Beinecke reopened after renovation.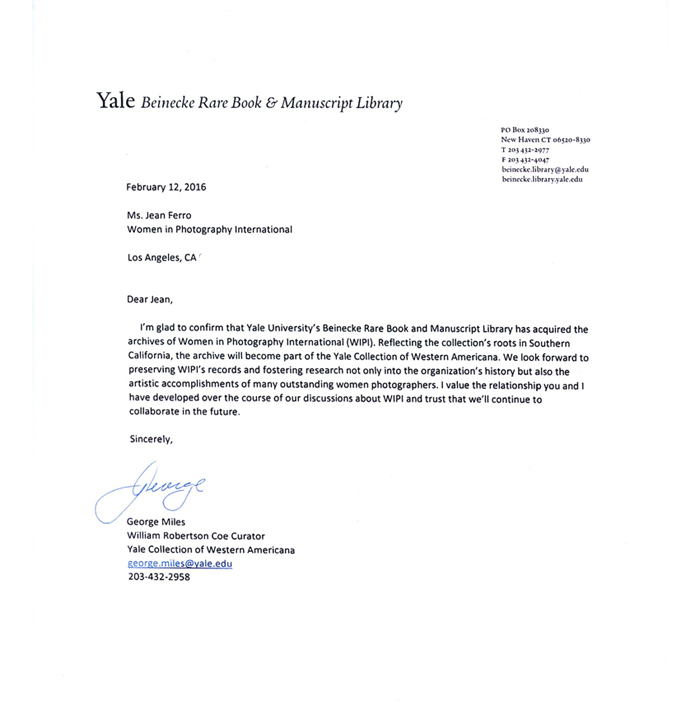 ---

NEXT came the website transfer. AGAIN, it all seemed so simple at first that was suppose to be completed in April 2016 and now finally, May/June 2017 we have reached WIPI's completion The website is being adopted into the Beinecke/Yale Archive.it system for worldwide access to educators and photographers. The site will be available in June 2017 at:

Women in Photography International Archive Collection
Curatorial areas Western Americana
https://archive-it.org/collections/6148

Subject:
Photography--Societies, etc.
Women in Photography (U.S.)
Women in Photography International Archive
Women photographers--20th century
Women photographers--21st century