FILE TRANSFER - BEINECKE RARE BOOK & MANUSCRIPT LIBRARY / YALE UNIVERSITY
transfer start fall 2014 - end May/June 2017
included printed materials (1981-2017) and website content (1999-2017)
HOME
2003
Peter E. Palmquist photograph: Mary K. Brown, 1991


for articles or information currently on our website related to Peter,
Letters from Colleagues

Peter Palmquist
1936-2003
A Fond Remembrance
Tribute April 12, Eureka and April 13, Arcata, CA, 2003
photographs by Jean Ferro all rights reserved

Peter's Tribute Event was held at the Morris Graves Museum in Eureka, just south of Arcata, Saturday, April 12, 2003

Approx. 800 people attended the event. There was a lovely reception at the Museum starting at 2pm and at 3pm everyone moved next door to the Eureka Theater to view a wonderful video of Peter's life and work.

Many out of town visitors stayed at the nearby grand Eureka Inn, just across the street from the Museum.

(left) The Public reception at the Museum, (catty corner from the Eureka in), was truly a fine tribute to a man who had accomplished and contributed so much to the history of photography. On Sunday morning, several people were invited to visit Peter's home and Women in Photography International Archive in Arcata.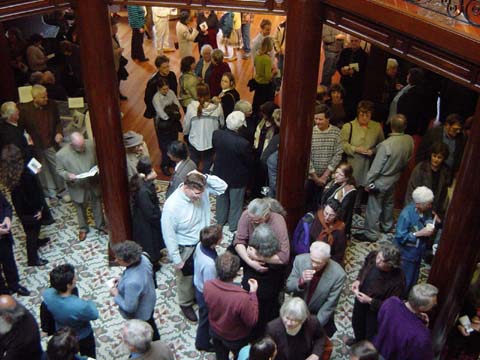 The Morris Graves Museum reception
Peter's long time mate, Pam Mendelsohn who
organized the event and her daughter Bekah


One of Peter's three daughters, Alison,
conversing with friends
left, Peter as a young photographer living in Paris, right, an image from his collection

There was a video presentaiton at the Eureka theater, of a lecture Peter gave on Feb. 4, 2001,
produced for KEET Living Biographies Initiative by Videographer/Editor Jan Kraepelien
Reproduced 2003 for the Tribute by Jan Kraepelien and Pam Mendelsohn
left: Peter making a presentation at his first lecture as a Historian, 1977, ICP/New York
Quote by Peter from Feb. 4, 2001 video interview "Well, The real message is, that if you're passionate about anything, that's kinda what life's about. so, whatever your idea is, whatever you want to pursue, do it whole heartedly and don't ever let anybody tell you,can't....fine, you can do it."
| | |
| --- | --- |
| 1183 Union Street | |
| | |
| --- | --- |
| Peter's home for his archives | meticulous filing system |
| | |
| --- | --- |
| Weston Naef and Julian Cox/J. Paul Getty Museum | |
| | |
| --- | --- |
| | Carl Maltz, Publisher |
| | |
| --- | --- |
| Suzanna Urminska, Nancy Clendaniel and Peter's Brother Carl | The place where Peter spent a lot of time |
Margaretta K. Mitchell, author

Ruth Bernhard: Between Art and Life.

Max, Peter's best friend. Max was with Peter when he was hit by the car
In conversation, Peter often called his Archive ...The Hen House !


Jean Ferro, Photo Artist /Pres. WIPI
visiting Redwood (Peter's) Park,
Carole Glauber, Nancy Clendaniel / Redwood Park, a place Peter often visited

Interior Hotel Arcata,

Peter's stomping grounds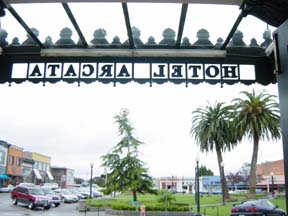 Hotel Arcata, facing the Arcata Plaza

Historical feature galleries or articles contributed by Peter

F2 eZine Archive 1: Premiere Issue, www.wipi.org November 1999 - March 2000
"Behind the Redwood Curtain: Women Photographers of Humboldt County, California 1850-2000"

Archive 2 April 2000 - June 2000
Historical Profile, California's Earliest Photographer May Have been a 12 Year Old Girl! by Peter Palmquist

Archive 3 July 2000 - August 2000
Historical Portfolio: Gisele Freund by Peter Palmquist

Archive 3 F2 eZine: WIPI NEWS
Women In Photography Millennium Project nominees

Archive 4 September 2000 - December 2000
Historical Portfolio: Mary Eleanor Browning by Peter Palmquist

Archive 5 January 2001 - March 2001
Historical Portfolio: Kodak Girls, by Peter Palmquist

Archive 6 April 2001 - June 2001
Historical Profile, Mary Winslow; by Peter Palmquist

Archive 8 October 2001 - December 2001
Historical Profile: Is Anatomy Destiny? by Peter Palmquist (WIPI 20th Anniversary multi-media CD Forward by Peter)

Archive 9 January 2002 - March 2002
Historical Profile: Mrs. Tape as Wonderwoman

Archive 10 April 2002 - June 2002
Historical Profile: Progress Report: Directory Pioneer Women Photographers of the World by Peter Palmquist

Archive 10 April 2002 - June 2002
Carol Glauber Book Review
Pioneer Photographers of the Far West A Biographical Dictionary, 1840-1865
by Peter E. Palmquist and Thomas R. Kailbourn, Foreword by Martha A. Sandweiss
Pioneer Photographers of the Far West: A Biographical Dictionary, 1840-1865
Stanford University Press, 2000
ISBN:0-8047-3883-1
679 pages
---