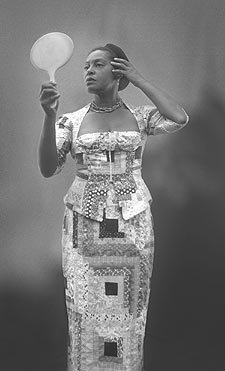 Women In Photography International Distinguished Photographer's Award - 2005
* - Carrie Mae Weems


Women In Photography International is happy to announce Carrie Mae Weems the recipient of our 2005 Distinguished Photographers Award.

Since Weems early involvement in Women In Photography, her photography career has prospered and is world-renowned. Weems uses narrative elements in her photography to examine class and gender issues through the window of personal experience and African-American heritage. ...
"My responsibility as an artist is to work, to sing for my supper, to make art, beautiful and powerful, that adds and reveals; to beautify the mess of a messy world, to heal the sick and feed the helpless; to shout bravely from the rooftops and storm barricaded doors and voice the specificity of our historical moment." --Carrie Mae Weems

Image: Carrie Mae Weems in her Self Portrait "I looked and looked to see what so terrified you." From her installation "Louisiana Project."

Women In Photography - Thea Litsios and Orah Moore remember Carrie and the 1981 first WIP gatherings in Los Angeles with pictures and letters
http://www.womeninphotography.org/historical/WIPIhistory2.html#thea

See bio, text and images continued

ONLINE PROCESSING
Put Your Summer & Fall and HOLIDAY Projects to work
for Your Family and PROfessional Needs

Summer is over, school begins, wedding season is still brimming with "I Do's" and the holidays are approaching. What do you do with ALL those photos? How do you handle the files? How do you SHARE your images or become the storyteller?

WIPI takes a look at some of the many output possibilities that are available for both Mac and PC users, online and at home/or office.

It's rare that we really focus on programs... Online processing is a growing trend that is here to stay. First the photo companies paniced over home printing and now they've found a new gorund to stand on and a very good one at that. It supports the PRO and the amateur market. I'm not sure what is available in Europe. I'm guessing pretty much the same in each country. At one time it seemed an amateur practice to send film off to be developed, now with digital, the possibilities are endless. Read about the current possibilities and links to photoshop learning centers.

Kodak Invitational Santa Fe Adventure by Jean Ferro

12 professionals share in a Santa Fe Workshop digital learning experience.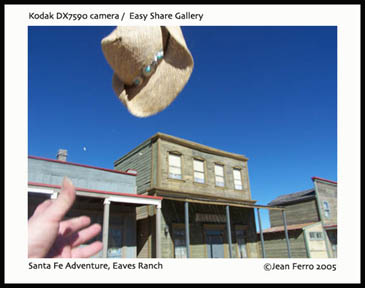 All images copyright and text © Jean Ferro 2005


On Tuesday, April 12, I received an e-mail from Audrey Jonckheer, Director /Digital & Film Imaging Systems at Eastman Kodak Company, "Dear Jean, On behalf of Kodak, I'd like to invite you to be our special guest at a three-day customized photography course May 11-14 at New Mexico's world-renowned Santa Fe Workshop, one of the world's preeminent photography education venues...." Without hesitation. I responded with a resounding... "Count Me In!"

With May 1st approaching, Women In Photography International was preparing for the deadline of our juried call for entries exhibition, "Beauty, Camera Eye of the Beholder." This invitation from Kodak seemed the perfect opportunity for me to learn more about digital innovations, including Kodak's involvement, So it was "ADIOS senoritas!" AND off to the Santa Fe Workshops in New Mexico, a land of breath-taking vistas and expansive terrains.


To my delight, a few days later a box arrived with a beautiful cowgirl hat and soon after another box with the Kodak DX7590, 5 Megapixel SRL-like camera and an EasyShare docking and printer system. Ready, aim, shoot, I am fully prepared to take advantage of this very special invitational digital adventure. During my Kodak/Santa Fe adventure, I used this cowgirl hat as an object theme to create a visual diary of the experience. ...have hat will travel... prop. Even after squashing it, sitting on it, throwing it, shooting it - in dust, wind and rain - the hat remained a perfect pictorial centerpiece for the trip!

Being so involved with the running of WIPI has left little time to update my digital camera equipment into anything SLR-like to compete or even come close to my 35mm Nikon N90 system. In 1997, I began my digital photography exploration with the Sony Mavica MVC-FD71, floppy mode. Sony's 2.5" screen attracted me, along with the 10x zoom they offered. Next came the MVC, FD88 , followed by the MVC FD92: a whopping..1.6MP floppy/memory stick 8x optical zoom. During a sale at Samy's Camera/Los Angeles, several years ago, I picked up the compact Sony cyber-shot 2.0MP and more recently the Sony, 5.0 MP 3x zoom DCS-W1. It was with this equipment that I began to create on-the-go images of everything and anything including documenting the preparations for Photo LA , and later in NYC, the backstage activity at the Lucie Awards . With the great support of Epson and the capability to produce fine art prints 13" x 19,", on the 2200 I was now able to scan original 35mm negs/transparencies and continue to create exhibition prints from my archives, along with images captured with the point and shoot Sony digital.

Using the new KODAK DX7590, I'll be able to hook up my Profoto strobes to the flash sync and maybe even shoot a portrait job or two! The DX7590 is a 5 megapixel, camera with a professional-quality SCHNEIDER-KREUZNACH VARIOGON 10X Optical Zoom Lens WITH loads of manual and programmable positions (see below). The camera is extremely light weight, easy to handle and has a built-in POP-UP flash. These cameras are becoming the next generation of "beyond point & shoot cameras," loaded with options.

| | |
| --- | --- |
| | |

The Santa Fe trip was simply the best! Great accommodations at the historic Saint Francis Hotel, in historic downtown Santa Fe; Good food and great company, which included Kodak reps Audrey Jonckheer, as well as Kodak VP, Digital Film Imaging Systems, Nancy Carr. Other guests included retailers, internet specialists and reviewers from around the country.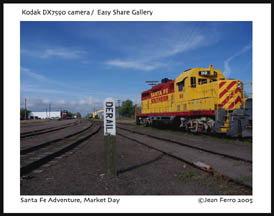 It was reassuring to see how Kodak was moving into the digital consumer arena, taking their rightful place at the helm as one of the world's leaders in visual communications. . J.D. Powers & Associates proclaims that "Kodak is Highest in Customer Satisfaction in the $200-$399 and the $400-$599 price ranges."
Here I am in 2005, thirty years after my first image was captured using Tri-X 400 film and I still have a relationship to the Kodak family of products. When I was a teenager, the Kodak Instamatic camera and variations of the 110 was the standard. In the early 1990's, I used the "new" Kodak Reuseable camera for my photo/video documentary project, "Through Our Own Eyes- Self-portraits by People Without Homes." sponsored in part the the City of Los Angeles Cultural Afairs Deparment., HBO Entertainment News, and others.

When I was starting out as a professional photographer in the 1970's, Kodachrome 25 (now discontinued) was my film of choice. With it's extremely fine grain and sharpness, KODACHROME is the most archival of transparency films. It seemed fitting that when CBS-TV did a video clip of my self-portrait work for the 1987 Paramount Studios/America Show and they used the sound track from Paul Simon's 1973 hit song "Kodachrome!"

"Kodachrome
They give us those nice bright colors
They give us the greens of summers
Makes you think all the world's a sunny day, oh yeah
I got a Nikon camera
I love to take a photograph
So mama don't take my Kodachrome away...."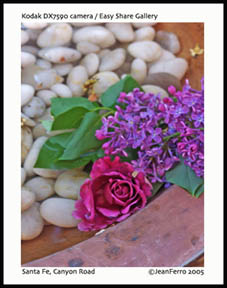 When the song was written in 1973 and became a hit, who would have dreamed that by the year 2000, there would be a digital revolution that would be replacing the traditional 35mm camera as well as the traditional point and shoot! Along with this revolution came the introduction of creative software applications such as Adobe Photoshop , along with sophisticated high-end printers such as Epson. We are truly experiencing a creative revolution, similar to the early days of Kodak camera production, by George Eastman.
By 1995, A & I Color Lab, under the direction of James Ishahara, had the latest equipment, the new KODAK PRO CD and the Kodak CD player, a huge player box that would allow one to view the digitized photos on the Kodak CD. Ish sponsored the production of 3 Kodak PRO CDs of my original self-portrait portfolio. They could only be played on the special player at the time. I think the disk player could be a collectors item by now. I still use the CD files, so they have lasted 10 years to date.

During my Kodak/Santa Fe adventure, I decided to use the cowgirl hat as an object theme to create my diary of the visual experience ... "Have Hat will travel" prop. After squashing it, sitting on it, throwing it, shooting it, in dust, wind and rain, the hat and the experience became a wonderful pictorial of my journey. I like themes, they encourage me to think beyond just what's in front of me, how to incorporate an object into the scene to create a cohesive journal.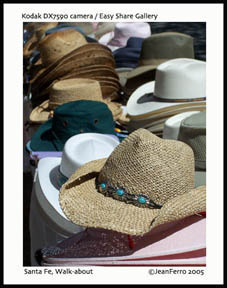 The Santa Fe Workshop facility and staff were our digital teachers ... tour guides! During our first gathering over dinner, we were entertained by SFW Director, Reid Callanan, who read passages from "The Way of the Traveler: Making Every Trip a Journey of Self-Discovery" written by Joseph Dispenza. The passages he read enhanced our awareness of the enchanted environment of the Indian Reservations, adobe-styled homes and buildings of Santa Fe - located at 7,000 feet elevation in the foothills of the Sangre de Cristo mountains. We were told "Drink water, lots and lots of water - and I also took a lot of baths..!

On our last day, once the group and individual picture taking opportunities around Santa Fe, Eaves Ranch, Canyon Road and the incredible Tent Rocks, were wrapped, we visited the local farmers market, had a final breakfast together and then ventured back to the SF workshop facility.
After four incredible days, we completed our image uploads at the Workshop lab and narrowed down our selection from the Kodak DX7590 camera to 10-12 images.
Just prior to going to the Eldorado Hotel for our final dinner and slide show, we stopped by the Andrew Smith Gallery to view some of photography's finest and most classic images. Dinner was delicious,including the tamale- wrapped raspberry delights. After our meal we had a wonderful slide presentation of our work. Everyone laughed a lot and reminisced about experiences shared over the last few days. The perfect pairing of adventure and learning. Outside, a thunderstorm and shower heralded the close of our final evening in Santa Fe, complete with a rainbow!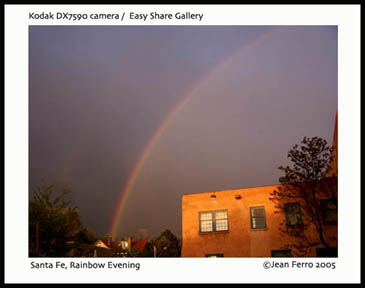 Instructors Jerry Courvoisier, along with Steve Walenta, Brenda Kelley, Kim Nesselhauf and the gracious Reid Callanan, Director of the Santa Fe Workshops, presented everyone with a bag of goodies including the group photo taken at Eaves Ranch. And last but not least, one final reading by Reid Callanan from "The Way of the Traveler: Making Every Trip a Journey of Self-Discovery," completed this exceptional experience. A special thank you to Jerry for bringing the exceptional and handsome artist John Paul Caponigro to speak to us about his digital art on Friday evening. The facility, SFW staff and programs are the finest in the country.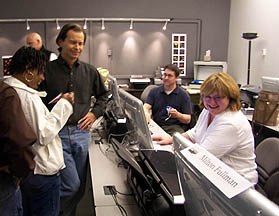 I'm a creative/techie gal who loves information, archival facts and figures and just learning how to use new equipment. Even before digital, I had several different cameras, mostly 35mm as well as Polaroid that produced various results. Now I enjoy not only the digital cameras, but also the advantage of home high quality printing that I have enjoyed with the Epson family of printers and archival inks.

Each year products get better, digital cameras are able to produce better images and lasting output.. and so it goes. We now need a special budget for the fast moving and changing photo equipment. Maybe just decide that every two or three years we will just upgrade everything, computer, camera, printer both professional equipment and the easy to use compacts. We know we are in an ever changing visual medium at the moment.
(Pictured above, left, Shireen Mitchel, Founder, Digital Sisters, Reid Callanan, SFW Director, Audrey Jonckheer, Director /Digital & Film Imaging Systems at Eastman Kodak Company, seated background, Mike Wolf, Director/InfoTrends.)
One of the Kodak Invitational participants, Veronica Hugger/National Scrapbooking Association created and gave everyone a very special mini portfolio. Scrapbooking is a huge business and the growth of digital has added to the massive software and products available to archive family history and events.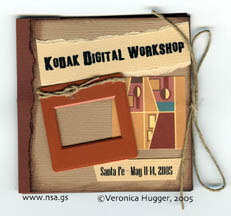 Kodak is working to bring the experience into an "EasyShare" system from compact home printing, onsite kiosks, to their online gallery experience. It's all there, it's just a matter of what your needs are. I think it's best to understand your customer base as well as have simplistic systems to capture your every day environment of family and friends. I do know that one thing we should all be looking at is "archival quality"....how long will the printed images last?
How long will CD's/DVD's be used? Lots of questions and many options. We must take the time to organize our digital files for not only current use, but also to be prepared for future transfers to new mediums.
Jean Ferro Photo Artist / WIPI President

All images copyright and text © Jean Ferro 2005
Experience the wonderful world of the Santa Fe Workshop photography programs
http://santafeworkshops.com

National Scrapbooking Association

Visit Henry Wilhelm for research on archival printing and products as well as 35mm film storage
http://www.wilhelm-research.com/

Digital Photography Review, a great website for up-to-date news on digital cameras as well as side by side comparison charts on specs and test reviews for both consumer and PRO products. http://www.dpreview.com/




For information about the DX7590 and Easy Share printer
http://www.Kodak.com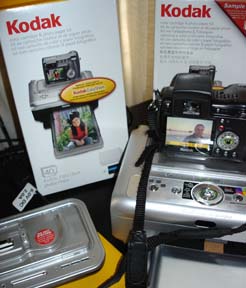 There's a world of inspiration out there, capture it all with the power and performance of the DX7590!
Professional-quality SCHNEIDER-KREUZNACH VARIOGON 10X Optical Zoom Lens
5.0 MP for stunning-quality prints up to 20"x30" (50x76 cm)
Exclusive KODAK Color Science Image Processing Chip
2.2" high-resolution indoor/outdoor display manual and custom controls
High-speed, low-light auto-focus
Continuous shooting and bracketing modes
22 scene and color modes
Sharing is one-touch simple
Ready to go -- right out of the box
The KODAK EASYSHARE Camera Dock 6000 is included with the camera when purchased in the U.S.

Also check out the new Kodak Picture Viewer, share Digital Pictures from the Palm of Your Hand ! ÊA Credit Card-Size Viewer with Big, Bright LCD Display

KODAK EasyShare Gallery
Shop for KODAK EASY SHARE GALLERY photo gifts

If you are not already associated to an online gallery, consider Kodak, a trusted name and a great way to process your online prints. You can produce prints, galleries, calendars, books to coffee mugs!

There are a lot of online print houses. Find one that you can navigate easily, feel comfortable about giving your payment information and don't worry about a password or mail box, create a box just for your online photo storage and album sharing, so you'll always know to go there to find and send images.

Sign of the Times:
Note: AP Business Wire 6/15/05
ROCHESTER, N.Y. - Ending a century-old tradition, Eastman Kodak Co. will soon stop making black-and-white photographic paper, a niche product for fine-art photographers and hobbyists that is rapidly being supplanted by digital-imaging systems.

Kodak said Wednesday it will discontinue production of the paper, specially designed for black-and-white film, at the end of this year. But the world's biggest film manufacturer will continue to make black-and-white film and chemicals for processing.
Also See George Eastman House, International Museum of Photography and Film

Shop for KODAK photo gifts