RE: Requests for posting: Although we would like to serve everyone, WIPI will only post selected conferences and Seminars and workshops by Photo Companies, Sponsors or affiliated organizations and MEMBER associated conferences. See SPONSOR list

---

2011-2012
Graphi Studio has wonderful seminars as well as a very handsome product line
or books for all occassions.
to find out when the next GRAPHISTUDIO presentation is coming to your town
call GRAPHISTUDIO California Sales
Rep Lane Nelson
866-472-7445 ext 473
Direct: 651-379-3473
http://www.graphistudio.com/en/index.html

---


WEDDING & PORTRAIT PHOTOGRAPHERS INTERNATIONAL

In Association with Rangefinder Magazine

Check website for updated information about seminars
http://www.wppionline.com

---
The Society for Photographic Education








2012 SPE National Conference, "Intimacy and Voyeurism: The Public / Private Divide in Photography" March 22-25, 2011
March 22-25, 2011 49th Annual Conference San Francisco, CA


http://www.spenational.org
CHECK SPE for updated info
Lists of university programs in USA, calls for submissions of pictures and manuscripts, conferences and exhibitions

SPE National Office
110 Art Building Department of Art
Miami University
Oxford, OH 45056-2486
Phone 513-529-8328
Fax 513-529-1532 (attn:spe)
email speoffice@spenational.org
---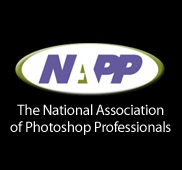 National Association of Photoshop Professionals
Training seminars
NAPP is dedicated almost exclusively to training and education. NAPP delivers training and tutorial content in a variety of ways.

Photoshop User Magazine, award-winning magazine delivers the equivalent to dozens of magazines on their members-only web site.NAPP trainers are the talent behind the best selling Photoshop books and training DVDs. The most famous trainer is NAPP's president and top-selling author of all books on technology — Scott Kelby.
No matter how you use Photoshop or your skill level, you're sure to get more than your money's worth from a NAPP membership. Join the thousands of Photoshop users in more than 100 countries who have made NAPP the largest graphics and digital imaging association anywhere. NAPP DIRECTOR, Larry Becker

TIPS - See How'd they do that?

Photoshop TV - Video podcast featuring Scott Kelby, Dave Cross and Matt Kloskowski - "The Photoshop Guys" Watch Now
---

Education Opportunities At chbphoto.com
in Person, by Telecoaching, & Tutorial CD
• Live action, real-time video tutorials covering specific areas of Photoshop
• A pragmatic approach to learning Photoshop - stressing technique & process
• Up to 5 1/2 hours of tutorial material
• Each CD covers Mac and Windows, as appropriate
• Many CDs address Photoshop, Photoshop Elements and Lightroom
• CD purchase can be combined with in-person telecoaching
Visit CHBphoto.com to see the Training products information

Everyone needs a personal one on one at times. CHBphoto provides excellent support and training. You may want to ask Chuck about "printing" They are set up to do large scale prints in a variety of materals and fine art papers.

Want to put a class together of your friends, contact chuck@chbphoto.com or call 310.216.6611 to find out how easy it would be to do this in the Los Angeles area, or special even a special class where CHBphoto can travel to your city.
---

Online Training Library®

Lynda.com is an award-winning provider of educational materials, including Hands-On Training™ instructional books, the Online Training Library®, CDand DVD based video training, and events for creative designers, instructors, students, and hobbyists.

Learn the latest tools and techniques in digital media, design, and development from expert instructors who possess a passion for teaching and present their material in a caring, honest, and unbiased manner.

Over 26,941 video tutorials Professionally-produced Windows and Macintosh compatible QuickTime videos. Over 394 topics available online, 24 hours a day, 7 days a week. Easy to use, priced to meet your every day needs and variety of training titles. Lynda.com

WIPI RECOMMENDS: These training videos are great, if you need a tutorial on the total software program or just a quick tutorial on a specific area, Lynda.com can provide you the oppotunity to keep your project moving forward with these easy to use training turorials. You can stop the video at any time and resume, or instant replay the information. You can't beat this system of learning outside of one on one training.

Priced fairly and is very convenient to use, no long term contract, learn at your own pace!
Planning to take one of those sophisticated Photoshop seminars, do yourself a favor and go through the tutorial first, so that you are equipped to grasp the techniques that the seminar programs usually glide through too quickly to really retain. Or, after your master class, Lynda.com will be an excellent support system.


---

The Santa Fe Photographic Workshops
, established in 1990, is one of the foremost year-round centers for experiential learning and creativity in the world.
With a faculty comprising many of today's most influential and talented photographers, present more than 150 programs annually for amateurs and professionals alike. These include weeklong workshops at the campus in historic Santa Fe, New Mexico, as well as in San Miguel de Allende, Tuscany, and Provence.
In addition, Santa Fe photographic workshops offer two-and-a-half-day intensives and custom-designed, one-on-one study opportunities in Santa Fe, and travel workshops to Ireland, Australia, Morocco, Thailand, Tanzania, Big Sur, and the coast of Maine.
Join the community of photographers to expand your skills, explore your creativity, and invigorate your passion for image making.
Look for clalsses from WIPI PRO members
Bobbie Lane
,
Rosanne Olson
and Advisory Board and Distinguished Photography Award winner
Joyce Tenneson
2012 - 23 YEARS of the industry's best seminar programs by top photographers
---
Palm Springs Photo Festival
CONNECT 12
DATES: APRIL 1 -6
Registration will open November, 2011. Hold the dates!
Hyatt Regency Suites, Korakia Pensione and The Palm Springs Art Museum, Palm Springs, California

The Palm Springs Photo Festival is an intense week-long event for Professional, Emerging and Serious Advanced Amateur Photographers. We are dedicated to providing a rich program intended to inspire, educate and instill or reignite passion for the art and commerce of photography. Attendees are encouraged to arrive on Sunday, March 28 in order to enjoy our Open Portfolio Review and Opening Reception.

Connect 2012 offers the opportunity to MEET top photographers, curators, art directors, editors, gallery directors, ad agency creatives, educators and industry leaders in the spectacular desert environment of Palm Springs, California for this year's Palm Springs Photo Festival. SHOW your portfolios, STUDY with legendary photographers, ATTEND cutting-edge seminars / symposiums and ENJOY evening projections by world famous image-makers. NETWORK with the master photographers, industry insiders and your contemporaries at several great evening parties and enjoy the warm Palm Springs weather. Most importantly, we promise you won't have more FUN at any other photo event. Walk away with a RENEWED PASSION for the art of image making.