HOMAGE TO AFRICAN
WOMEN PHOTOGRAPHERS 2010

by Patrizia Pulga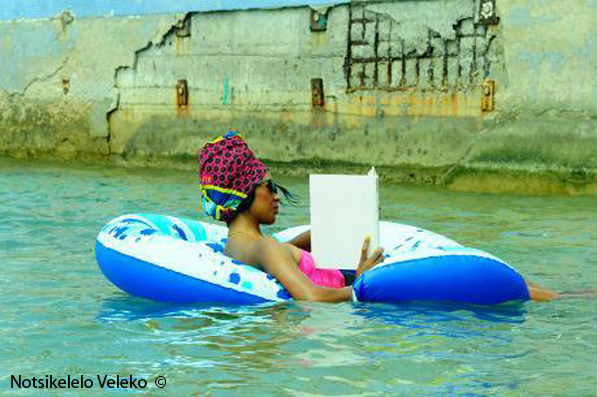 As a woman I intend to give my contribution to celebrate March 8th, the International Women's day supporting the International campaign for the Nobel Peace 2011 for African Women (you can sign in the site: www.noppaw.org)

As a woman photographer I send to WIPI this report about African women photographer's participation in 8th African Meeting of Photography in Bamako, Mali.

Wishing them a future of plenty, peace and tolerance, I welcome African women photographers as important messengers of their culture. Their works give voice, dignity and empowerment to all the African women and women of the world.


Patrizia Pulga, Charter Member WIPI PhotoProfile



African women photographer's participation in 8th edition of "Les Rencontres Africaines de la Photographie" (African Meeting of Photography), in Bamako, Mali.

The 8th edition of "Rencontres Africaines de la Photographie", organized by La Maison Africaine de la Photographie (www.fotoafrica.org) was held in Bamako, Mali, November 7th to December 7th 2009. The meeting, a production of the Ministry of Culture of Mali and of Culturesfrance, with Michket Krifa and Laura Serani as artistic directors and Samuel Sidibè as general delegate for the event, for one month enlightened the capital of Mali.

The topic of this year's edition was "The Borders". This actual subject, defined by the organizers "a concept that is eminently current and paradoxical in a world where, on the one hand, we proclaim and practice the disappearance of political and economic borders and, on the other, erect walls to protect them" has been represented in various aspects by the artists, including issues and consequences of cross-border movements.

Many exhibits have been shown in important places and working-class areas of Bamako: the National Museum, the Palace of Culture, the District Museum, and the National Institute of Arts Gallery (INA). Workshops, debates, interactive projects and screenings had provided a lot of opportunities for photographers.

In the Panafrican Exhibit, a panorama of contemporary creativity in Africa, forty photographers coming from twenty African countries had shown their works and thirteen video artists gave their interpretations and representations of borders.
Many exhibitions were monographic, focusing on artists and showing their unique visions of borders such as in the pictures of Patrizia Guerresi Maimouna (from Italy) and Angele Etoundi Essamba (from Cameroon).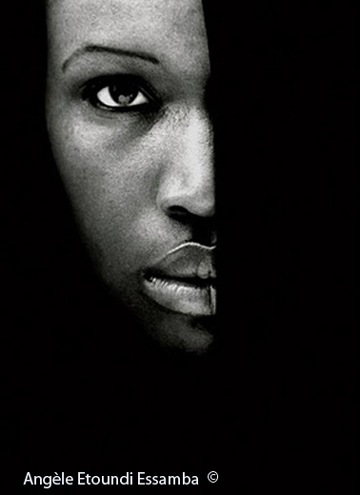 In fact, also in this edition the women photographers' presence was massive, as a result of their empowerment in different fields in Africa.

Since the 6th edition, where about 30% of the pictures exposed were from women, many women photographers obtained important rewards, such as Notsikelelo Veleko who participated in the 7th edition (2007). Valeko, born in 1977, lives and works in Johannesburg. In the last couple of years, Lolo (her nickname) has been gathering a great deal of attention with her striking work entitled " Beauty is in the eyes of a beholder" and now her pictures are exhibited in European, African and Asian famous Galleries.




Women photographers who showcased their pictures in the Exhibitions:



Angèle Etoundi Essamba (www.essamba.art). Native of Douala, Cameroon, she lives and works in Amsterdam where she learned photography at the Dutch School for Professional Photography. The varied cultural environments in which the artist has evolved profoundly influenced her view of the world, largely dominated by her African roots. Her work combines the grace of stylized lines echoing the female body. Women in general and black women in particular are the key element in her approach. Since 1985 Angèle obtained international recognition with exhibitions all over the world in the Netherlands, Cameroon, South Africa, Mali, Senegal, Tanzania, Algeria Spain, Italy, France, Germany, Belgium, United Kingdom, Denmark, Sweden, Cuba, Mexico and U.S.A.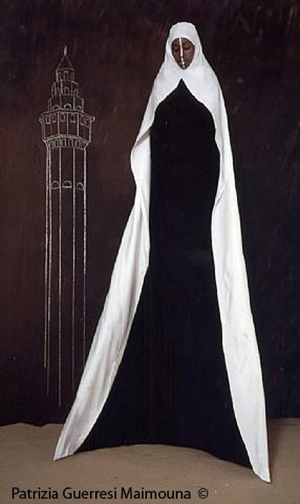 Patrizia Guerresi Maïmouna, who converted to Mouridism, a Sufi tendency of Islam, very popular in Senegal, is an Italian photographer, sculptress and video maker. Her pictures show the relationship between women and society and their marginal role. The women she represents are often inspired by universal myths and their bodies appears mystic and sacre. In the ten pictures exposed in the National Museum of Mali, some are self-portaits or pictures taken of her two daughters. Patrizia says that, thanks to her faith in Mouridism, that is a real African religion, she could have a different look on Africa. She had important exhibits in Biennale in Venice (Italy) and in Documenta in Kassel (Germany), in Spain and USA.



The south African Jodi Bieber (www.jodibieber.com), is the winner of the "Prix de le l'Union Europeene" at the Recontres de Bamako of this edition. Since 1996 she is working for magazines such as New York Times, Geo and Sunday Times and for non-profit organizations like MSF on special projects for booklets and exhibitions. She obtained different prizes from World Presse Photo and in 2009 the 1st Prize of POYi for the portraits. Her most recent exhibition is "Real Beauty".


Myriam Abdelaziz (www.myriamabdelaziz.com), a French photographer of Egyptian origin, born in Cairo in 1976, whose subjects are particularly women from Africa and Middle East. She lives in New York since 2005.



The Tunisians Lilia Benzid and Faten Gaddes. Lilia, born in 1961, Charter Member of "Les Rencontres Photographiques de Gar el Meth", lives and works in Tunis. Her pictures are focused on daily life and are inspired by her personal experience, divided into West and East (her mother is german). Also Faten, aged 36, was born and lives Tunis and is Member of "Les Rencontres Photographiques de Gar el Meth". She is architect and photographer and participates to many international exhibitions in Africa and Europe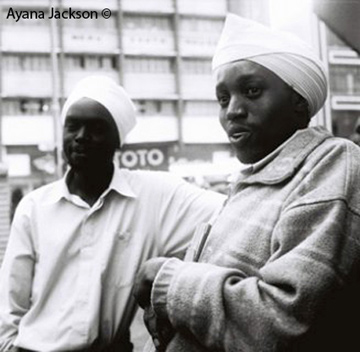 Ayana V. Jackson (www.avjphotography.com) , born in 1977 in South Africa, studied in Berlin and actually lives between South Africa and USA. She exposed in the "Mali National Museum" as a Diaspora photographer. The subject of her pictures are the human condition and a deep research about human community in this era of globalisation. Her work has been exhibited worldwide.
Arwa Abouon (www.arwaabouon.com),a photographer of Lybian origin living in Canada. In her pictures she investigates the two cultures she belongs to: the so-called Western culture and her Muslim origins.

Majida Khattari (majidakhattari.com), Moroccan, born in 1966, is an artist graduated from the Ecole des Beaux-Arts in Paris in 1995. Majida stages fashion shows as political performances by linking Western fashion to Islamic codes of dress and behaviour. Since 1999 shows have been staged at the Centre George Pompidou, the Kunstmuseum of Lucerne (Switzerland) and the Guggenheim Museum Soho, in New York.
Zanele Muholi (www.zanelemuholi.com), born in Durban, South Africa, in 1972,won the Casa Africa award for best female photographer and a Fondation Blachère award in this edition of Les Rencontres de Bamako. She also received a Fanny Ann Eddy accolade from IRN-Africa for her outstanding contributions in the study of sexuality in Africa, at the Genders & Sexualities in Africa Conference held in Syracuse, New York.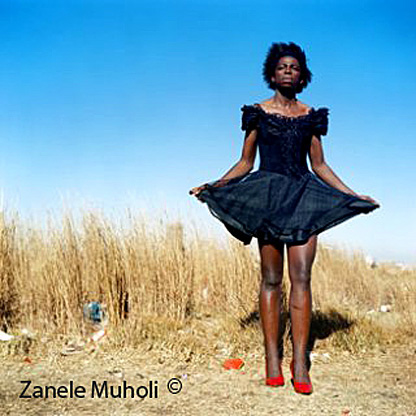 Rana el Nemr, who participated also in the 7th edition, was born in 1974 in Egypt. After having studied Photojournalism and Advertising at the American University in Cairo, she starts to exhibit her pictures all over the world, such as in Egypt, Denmark, Finland, Japan, and so on. She won important prizes, as the the Prize "Seydou Keita" (the most important Malian photographer, recently deceased).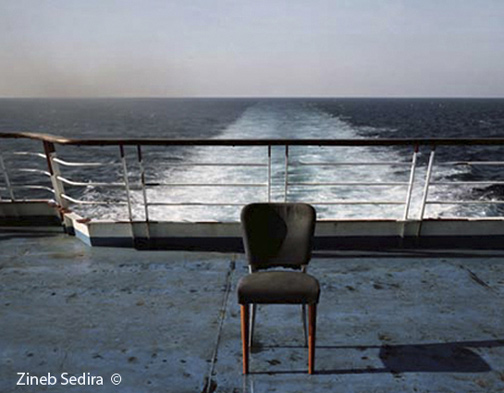 Zineb Sedira (www.zinebsedira.com), an Algerian woman, aged 47, born in Paris and living in London. Her pictures have been exposed in U.S.A., in different countries of Middle East, in the Biennale of Venice (Italy), in Tate Britain (London), in Photo Espana and Centre Pompidou (Paris), and so on.

Mouna Jemal Siala, Tunisian, born in 1973 in Paris, photographer and teacher of plastic arts in the "Institut des Beux Art" in Tunis, participates to many exhibits in Tunisia, France, Germany, Spain and Belgium.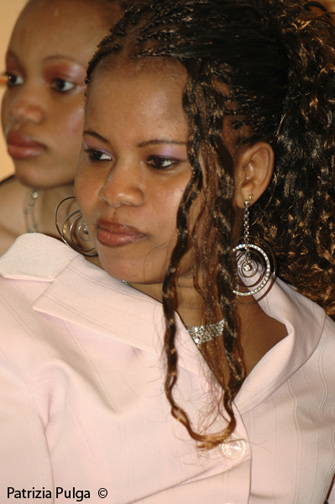 Patrizia Pulga ©
All rights reserved for permission to repirnt, contact Patrizia Pulga
website: www.patriziapulga.it

Patrizia is a WIPI Charter Member


Past contributions by Patrizia include:

CENSUS ABOUT WOMEN PHOTOGRAPHERS CURRENTLY ACTIVE IN ITALY, EUROPE AND THE MEDITERRANEAN REGION (2000)

Salutes the Women Photographers of Africa (2006)

Sylvia Plachy/Blanca Berlin Gallery/Spain (2008)

"FOCUS ON FEMALE" at Orvieto Fotografia (2009)


I visited the countries of North Africa: Tunisia, Algeria (in particularly Sahrawi Refuges Camps), Lybia and Egypt. I have known a lot of African Women particularly in Italy, where they arrived as immigrates in the late 80s.

They arrived slowly in our towns, in our private lives from Senegal, Ghana, Nigeria, Ivory Coast, Morocco and so on. Curious, I started to take pictures to these new "sisters" also to go to their parties, to taste their food, which has filled my stomach as well as my mind, and is one of the first enticing starting points to explore their culture. I listened their music, a new intercultural blending of notes and a key to their souls often full of home-sickness for their countries. I've enjoyed photographing their dances, highlighting their beauty in the traditional costumes, which invoke a different conception of the body and their way of living in this world.

So I am really grateful for the splender of these cultures which have enriched my spirit and given me deeper understanding of womankind.... Patrizia Pulga