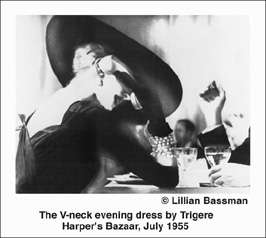 Lillian Bassman

Review by Carole Glauber, copyright 2001
Lillian Bassman, photographs by Lillian Bassman; Essay by Martin Harrison, A Bulfinch Press Book, Little, Brown and Company, 1997.

At the turn of the century, a schism existed between commercial photographers who earned a living making photographs, and the creative purity of the amateur artistic photographer. Many amateur photographers like Alfred Stieglitz, Edward Steichen, or Anne Brigman believed in aesthetic independence from the constraints of earning money from their photographs. After World War I, Steichen abandoned this divide by publishing artificially lighted cubist and art deco designed fashion photographs.

By the 1920's and 1930's, commercial photography and art had cemented their relationship in new formats seen in elegant magazines such as Vogue and Harper's Bazaar. A new breed of fashion photographers mastered lighting techniques combined with props, sophisticated environments, and glamorous models. Sir Cecil Beaton, Horst P. Horst, Irving Penn, Richard Avedon, and Louise Dahl-Wolfe contributed to the new fashion medium, often studying under Alexy Brodovitch, the art director of Harper's Bazaar from 1938 to 1958.

It was under Brodovitch's tutelage in 1941 that Lillian Bassman learned the trade of magazine art director, later becoming his first salaried assistant.

In 1944, she was appointed art director of Hearst's Junior Bazaar. Two years later, she decided to learn photography and spent hours at Harper's Bazaar mastering printing in George Hoyningen-Huene's darkroom. She and her husband, photographer Paul Himmel befriended the Avedons, and Richard Avedon loaned her his studio while he was in Paris. She photographed a model in lingerie, who liked the photo enough to show it to her advertising executive husband. Overnight, after only two months as a photographer, Bassman acquired a major account and a regular job with Harper's Bazaar. In 1949, she photographed her first Paris collection for the magazine, Richard Avedon threw a huge party in honor of the occasion, and she began photographing the leading models of the day.

The reproductions in Lillian Bassman, with an essay by photography historian and curator, Martin Harrison, convey the sensual, feminine, romantic style evoked in her work. Bassman did not always rely on beautiful models and clothes as the essence of her photographs. In the darkroom, she experimented with printing through gauze, tissue, careful 'burning in' on certain image areas, and bleaching sections with ferrocyanide, to create an image that resembled a cross between a water color and a photograph. Most images reproduced in the book were "reinterpreted," (defined as contemporary reprinting of the original image after manipulation by Lillian Bassman) in 1994, but examples of her original magazine page layouts are included, giving us a faithful depiction of her success. Her imagery ranges from the casually elegant to blurry and grainy, but gesture, intimacy, and refinement are characteristically present on every page.

Lillian Bassman was born in Brooklyn, New York on June 15, 1917, the second child of Russian immigrant parents who had experimented with farming in New Haven, Connecticut with a group of bohemian Jewish intellectuals. When she was sixteen, she wore unconventional Russian capes, long earrings, low-cut peasant blouses, and jodhpurs. She modeled for artists in the WPA (Works Progress Administration), dabbled in painting and textile design, was arrested and booked under the pseudonym "Rosa Bonheur" after a political protest, and married Paul Himmel after twelve years of living together. They had two children, Eric and Lizzie. Then came her success at Harper's Bazaar and her work as a photographer until 1971 when she and Himmel formally closed their photography studio, although she continued her personal photographic projects.

Evidently, her studio closing prompted Bassman to "discard" garbage bags of negatives discovered 20 years later by her downstairs neighbor, painter Helen Frankenthaler, according to one version of the story. Author Martin Harrison, visiting from London, encouraged her to resurrect them, much to the benefit of us all.

Lillian Bassman can now enjoy the renewal of interest in her work. Gallery and museum exhibits, magazine articles, lectures, and books highlight her life and her photographs. The book, Lillian Bassman, is a fine tribute to an extraordinary photographer. As Martin Harrison notes in his essay, "The photographs in this book were made by a woman who raised two children, who played poker, drank spirits, smoked, danced the lindy-hop in Harlem, loved the beach in Fire Island, liked clothes, had style."

Format: Hardcover, 1st ed., 74pp.
ISBN: 0821223763
Publisher: Little, Brown & Company
Pub. Date: May 1997
---
The Photographer's Guide to
Marketing and Self-Promotion

Third Edition
by Maria Piscopo
Promoting and Selling Photography in Changing Marketplace

Veteran Photographer's Rep Shares Inside Secrets for Surviving, Thriving New technology and an increased reliance on stock photos have dramatically altered the world of professional photography.


Digital equipment and client requests have altered the scope of the very meaning of "photographer," while scores of professionals who began and ran their businesses by referral and word of mouth are being forced to
re-evaluate their strategies. Photographers, whether beginners or seasoned professionals, need new guidance to face the changed landscape of their industry. The Photographer's Guide to Marketing and Self-Promotion, third edition, by Maria Piscopo has been revised and updated to address the business in its state today.


Maria Piscopo, a professional photographer's representative for more than twenty years, is an expert at helping photographers to find more clients and make more money—no matter what the size of the individual operation.
"Whether you have $500, $5,000, or $50,000 to spend on self-promotion, the rules and techniques are the same," Piscopo observes. She goes on to explain how to build a marketing plan that incorporates self-promotion, advertising, direct marketing, public relations, and the Internet. This
indispensable guide also details:

researching and winning clients
negotiating rates
finding and working with reps
creating and using portfolios
promotion pieces
the ethics of good business
Through real-life examples, case studies, and interviews, The Photographer's Guide to Marketing and Self-Promotion condenses theory into practical, easy-to-follow instruction. No one attempting to promote and sell photography today can afford to be without the proven-successful techniques contained within this classic handbook.The Photographer's Guide to Marketing and Self-Promotion can be found in better book stores, or it can be ordered directly from the publisher by calling 1-800-491-2808, or by going online to www.allworth.com where you will find a full description, a table of contents, and reviews. Distributed to the trade by Watson-Guptill Publications: 1-800-451-1741.
$19.95; 6 3/4 x 9 7/8, 208 pages
Paperback; ISBN 1-58115-096-2
Publication Date: June 2001
Maria Piscopo has been a photographer's representative for more than 20 years. She has consulted, lectured, and written extensively about the business of selling photography. She works with artists, designers, and photographers by speaking at industry conferences, conducting professional seminars and conference workshops, and teaching college courses at various locations, including the internationally renowned Art Center College of Design in Pasadena, and the Dynamic Graphics Educational Foundation. The author of Marketing & Promoting Your Work, she has had her articles published widely in industry magazines, including HOW, Digital Output, Petersen's PHOTOgraphic, Rangefinder, Step-By-Step, Shutterbug, and Communication Arts. She lives in Costa Mesa, California.
Maria is a current Advisory Board member of Women In Photography International.
---