I was born in Belgium, a long time ago, between the two mondial wars. The only consolation of my age is the distance I covered, so interesting in this century where all changed so rapidly.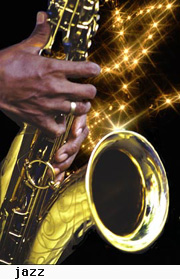 I am practically born IN PHOTOGRAPHY, my father was one of the first fans of photography in these heroic years where photography was both Art and Still life report. He worked with 9x12cm glass plates he developed in our cellar.When developed, they were put with a sensitive paper between two wooden frames and exposed at the window, under the sun rays. And that during (a certain undefined time). Sometimes, it was good, and sometimes burned, he would have to begin again !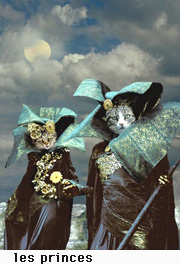 As a child, I was modeling for him. I was at the same time proud to be a model but stressed a lot. In this time, the exposure periods were very long and I had to remain motionless so that my initial smile was rapidly transformed into a grimace. All these memories are nostalgic souvenirs...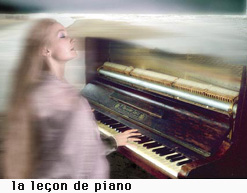 I was naturally always interested by photography, but it is only many years after, that I began to take photos myself. First with an AGFA ISOLETTE, than an OLYMPUS PEN EE and finally with a long series of NIKON, NIKKORMAT, FE, FA ? 8O1 ... and all the good optiques therewith.
In 1975, I entered into a photo club in Brussels and now I am also in a photo club in France. In the photo clubs, we don't learn technique, but by seeing many good pictures, we learn to see differently. In the beginning I was under the influence of my father's photos, nice landscapes against the sun with something or somebody in the foreground. But now, my subjects are real people and still life reports. AND... created pictures.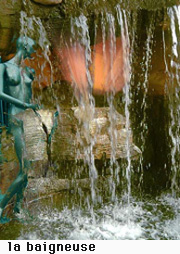 I began with B/W papers in my bathroom then onto a true laboratory, then Colors (Cibachrome). I tried everything and anything, even Bromoïl technique.
At the same time I was painting and I learned serigraphy while in an academy during 4 years.
These 2 arts brought me naturally to the numeric photomontages
As a painter, I wanted to do surrealism, onirism ... BUT IT WAY TOO DIFFICULT. In photo too, it was also too difficult, many papers ended up in the dustbin.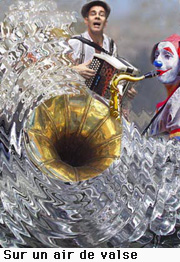 With PhotoShop (or another dood logiciel) it is easier to realize. NOT NECESSARY EASY as people think, but realizable with a lot of good scanned photos, or with a numeric camera (I have an OLYMPUS CAMEDIA 3030Z) but above all, with a lot of imagination !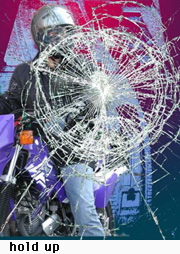 The serigraphic technique permitted me to understand the notion of tracings in photoShop.

Naturally, I go on taking photos any time it's possible, otherwise, how could I enter anything into my PC? Overall, taking photos is always my first source of joy... to catch an instant of light or of life. That is the only true purpose of a photographer.
Lucette Virelle