My way to photography was natural and unpredictable simultaneously. My predilections are rather those of a writer, than of an artist and I have never thought that the photo could occupy such a large place in my life as it is now.
I could call my father my first teacher, who was engaged in an amateur black-and-white photo, taking pictures of nature and people when he was young. He demonstrated skills of using the simple camera "Smena", and then - the camera "FED" to me. I would not say, that I was engaged in photography - mostly I photographed only in summer, spending my holidays on the Ladoga lake or in Crimea. Usually I took pictures using black-and-white film and a slide film ORWO CHROM . These were usual "memory photos", dedicated to landscapes. "Explosion" has taken place five years ago, when my friend, having noted some "scintilla" in my summer snapshots gave me the mirror camera of "ZENIT - TTL" as a present and the first colour negative film "Konica". With these treasures I went for a holiday to the Karelian isthmus (near Finland) and it was this first film that became a "door" in the world of photography.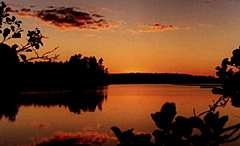 It will make the western reader laugh, especially a professional photographer, but it was the quality of colour reproduction of modern photo materials that was a shock for me rather than potentialities of the mirror cameras. Having printed out the first snapshots, I saw natural colours of the sky, rainbow, thunderstorm clouds, water and birds, I saw, that the photograph can depict the finest state of the nature. And from this moment I simply "have fallen ill with photography.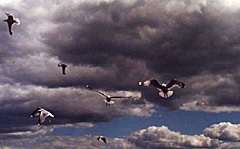 I sometimes think what the creative task of the person with the camera is, as seen by him. For someone it is a way to depict the appearance of a modern world and a man in detail, using a perfect engineering "to improve" slightly an image in favour of a customer. For someone it is a way to express his perception of the world, having distorted the appearance of the surrounding world and having given it fantastic and unrecognisable features with the help of achievements of photo engineering. For me the essence of photography is to depict the perfect harmony, which is poured out on us from the ambient nature and shows itself in the majestic pictures of the sky, and in a small-sized, not always noticeable things - like branches, webs, leaves, birds. The state of mood, which I experience, being in the countryside with the camera in hands, could be called some kind of meditation. A person, stranding in a forest, can admire subtle states of nature, but his thoughts early or late, this way or another dissolve in the business of the day. The photographer looking at a leave or a flower through the range finder, focuses on their shape, on their variability in miscellaneous lighting, on an angle, at which their shape appears perfect or exotic.
I have noticed, that my state of mood quite often is transmitted to the people, who look at my photographs, - they experience some kind of calmness and delight - not with photos, but with the surrounding world. I think that my activity is rewarded, when a person, having seen snapshots, starts to look at the sky, to pay attention to the perfect shape of a living world, located around of us, or extracts a camera from a larder being deserted there for a long time.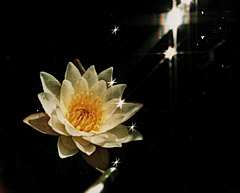 I consider my friend who presented me a photo camera to be my second teacher and inspirer, and the main inspirer, as before, is nature itself. Two books "Light and lighting" by David Kilpatrick Á "Landscape photography" by John Wade influenced my technical skills in photography. I still work with the camera "Zenit - TTL". It is the old Soviet camera with good optics and ugly mechanics; it is very heavy and with a very rigid trigger mechanism. It is worth noting, that the overwhelming majority of the Russian amateur photographer is compelled to use photo engineering of the same class and level.
In 1998 some of my works were published in the magazine "MLM - perspective" (and I was even paid for the publication). I have presented a pair of snapshots to the magazine of spiritual orientation "Potok". As I consider myself to be not very technically skilful fan and I apply to publishing houses to propose my works very seldom. Besides, after crisis of August, 1998 very many periodicals were closed.
The difficulties of economical existence of the inhabitants of Russia have long ago become a general problem, but these difficulties to no small degree have an effect on photography. I rarely take up with photography, as I can hardly afford to purchase even a cheap film. When printing photographs I can not use a high quality photo-services and I use a cheap "stream" photo saloon, where the employees (got used to print pictures with festive meals and barbecues) not only multiply colourless prints, but quite often scratch negatives. I ve received the proposal to organize small photo-exhibitions in a concert hall and in the library twice, but had no financial possibility to print snapshots of the eligible format. Speaking about creativity of women photographers in Russia, it is necessary to note, that in the country experiencing economical and political transformations, for any artist it is difficult to be engaged in creativity, and taking into consideration a long-term patriarchal principals, it is even much more difficult, especially when she is engaged in non-commercial photography. I know two art organisations in St.-Petersburg, which give the artists and photographers a possibility to exhibit their works - gallery "Borei" and club "Polygon". Yet, I do not consider myself to be a professional photographer to offer them my works. But, as a person searching for comprehensions and response, I would like to show my photos to everyone, who can be touched and inspired with the beauty of the world and nature.
email: chesterj@spb.cityline.ru
website: http://www.julsor.narod.ru/
Sincerely yours, with best regards
Julia Sorokina