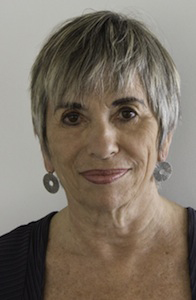 CATHY GREENBLAT, PhD

Photo CV since 2002

Cathy Greenblat is Professor Emerita of Sociology at Rutgers University where she served for 35 years as a member of the Department of Sociology, Women's Studies, and the Bloustein School of Planning. The author of 15 books and more than 100 articles, she has lectured in the USA, Latin America, Eastern and Western Europe, Russia, Africa, the Philippines, China, Australia, and Japan. Since 2002 she has been engaged in a cross-cultural photographic project on aging, dementia, and end of life care. These projects have resulted in two books containing her photographs and text: Alive with Alzheimers (2004) and Love, Loss, and Laughter: Seeing Alzheimer's DIfferently (2012) and exhibits from those projects in the USA, Europe, the Middle East, India, Japan, and Australia. At present she is developing a related multimedia project, tentatively titled "Side by Side: Love and Joy in Dementia Care". Cathy considers herself to still be an educator, but with an enlarged "classroom", as she tries to make a difference in the world. Since her retirement in 2002 she served as an Honorary Research Fellow at the International Observatory on End of Life Care, Lancaster University, UK from 2006-2010. She is currently an Honorary Professor at Glasgow Caledonian University and a Researcher in Human Sciences and Photographie at the Center for Memory Resources and Research (CMRR), University of Nice, France, where she was an Artist in Residence for 8 years prior to moving back to the USA in 2012. She works tirelessly and travels extensively despite living with cancer since 1998

Personal Update:
I had a pause from much photographic activity in the last 2-1/2 years while serving as a caregiver for John Gagnon, my husband of 38 years and the major supporter of my transition from university professor to independent photographer. John passed away on February 11, 2016. In the early stages of grieving, I wondered how to get restarted in the photography world. To my delight, two invitations for exhibits solved the dilemma. http://womeninphotography.org/photoprofile/JohnHGagnon/index.html
These two opportunities have been a wonderful present and I am grateful for them. John would have been delighted.

WEBSITES, BLOG, VIDEOS

www.LoveLossandLaughter.com <http://www.LoveLossandLaughter.com>
Blog: www.lovelossandlaughterbook.blogspot.com

YouTube 15 minute film about the LLL exhibit by Corinne Maunder, LOVE, LOSS, AND LAUGHTER: SEEING DEMENTIA DIFFERENTLY <http://youtu.be/bUT3qQFWDvw> BBC.com <http://BBC.com> 5 minute video about Love, Loss, and Laughter... <http://youtu.be/bUT3qQFWDvw> video produced by Paul Kerley of BBC about Love, Loss, and Laughter


CATHY GREENBLAT FEATURE ARTICLES

SILVERSHOTZ, May 2014 <http://womeninphotography.org/Events-Exhibits/SILVERSHOTZ/WIPI-article-2014.html#greenblat>
SHUTTERBUG, April 2015, pp. 82-85. "Doing Well by Doing Good: How to Help Others (While Helping Yourself) by Donating Photo Services to Charities and NonProfits", by Maria Piscopo,


WIPI COMPETITION PRIZES

1st prize and Honorable Mention, Amateur category, "Decisive Moments: A Tribute to Henri Cartier Bresson";
Honorable mention, "Beauty" competition;
2 images in "Turning Silver" competition (100 best black and white images on any theme);
1 image in "best 25", 1 in "best 100" "Portraits" ;
selected as one of 11 women featured in special issue of Silvershotz, May 2014

OTHER AWARDS and PRIZES

2010 Invited to deliver the 2010 Hinda and Richard Rosenthal Foundation Lecture, Institute of Medicine of the USA, Washington DC

2007 John McGovern Annual Award for work on Family, Health and Human Values, Houston, TX

2002 FNAC Competition Talent 2002 – "Mention Speciale" (honorable mention)


ONE PERSON EXHIBITS

2016 September 14, 2016 an exhibition of 20 large photos from the 95 image "Love, Loss and Laughter" exhibit, in Geneva, United Nations building in conjunction with discussions at the UN during a three week conference on Human Rights for the Elderly.

2014 August, Meridian, Mississippi, Art Museum, "Arts, Hearts, and Minds"

2013 Palm Desert, CA, "Selections from Love, Loss, and Laughter: Seeing Alzheimer's Differently", Palm Springs Art Museum in Palm Desert.

2013 7 states in Australia from May through November, "Love, Loss and Laughter: Seeing Dementia Differently", expanded exhibit including Australia photographs (website: www.exhibition.fightdementia.org.au <http://www.exhibition.fightdementia.org.au> <http://www.exhibition.fightdementia.org.au> )

2013 Haifa, Israel, location TBA, "Arts, Hearts, and Minds"

2012 Worcester, UK, Hive Library, "Arts, Hearts, and Minds"

2012 New York, Michael Schimmel Center for the Arts, Pace University, "Love, Loss and Laughter: Seeing Alzheimer's Differently"

2012 London, University College London, "Love, Loss and Laughter: Seeing Alzheimer's Differently"

2012 Geneva, Switzerland, World Health Organization, and Palais des Nations, "Love, Loss and Laughter: Seeing Alzheimer's Differently"

2011 Monaco, Theatre Princesse Grace, "Arts and Minds"

2011 - 2012 Nice, France, Maison de la Montagne, "A Nice nos musées nous accueillent -
Part 2 - Project CALMAN" (Traveling exhibit to 7 venues in Nice for 4-6 weeks each)

2011 Salamanca, Spain, Palacio Casagrande, "Amor , Perdida y Risa"

2011 Salamanca, Spain, National Reference Centre for Alzheimer's and Dementia Care, "Amor, Perdida y Risa"

2011 Madrid, Spain, Fundacion Reina Sofia, "Love, Loss and Laughter: Seeing Alzheimer's Differently"

2011 Toronto, Canada, Baycrest Hospital Watercooler Gallery, "Celebrating Life"

2011 Glasgow, Scotland, Gallery of Glasgow Caledonian University, "Love, Loss and Laughter: Seeing Alzheimer's Differently"

2010 Washington DC, National Academy of Science/ Institute of Medicine, Keck Gallery, "Love Loss, and Laughter: Seeing Alzheimer's Differently"

2010 Houston, TX, FotoFest official exhibit, Univ of Texas Medical School, "Alive at the End of Life"

2010 Nice, France, Bibliotheque Nucera Gallery, "A Nice les musées nous accueillent…"

2010 Geneva, Switzerland, EMS Les Mouilles / Petit-Lancy, "Alive with Alzheimer's"

2009 10 city traveling exhibit, India, "Living with Alzheimer's"

2009 Wolverhampton, GB, Light House Gallery, "Accompanying Alzheimer's: Loss, Love, and Laughter"

2009 Harrogate, London, UK, 4th Dementia Congress, "Alive with Alzheimer's"

2009 Monte Carlo, Monaco, Princess Grace Theatre, "La vie jusqu'au bout…"

2009 Constanz, Germany, Nycomed Pharmaceuticals Headquarters, "Alive at the End of Life"

2009 Vienna, Austria, European Association of Palliative Care, "Alive at the End of Life"

2009 Somerset, NJ, USA New Jersey Alzheimer's Association (twice), "Alive with Alzheimer's"

2009 New Brunswick, NJ, USA, Institute for Women and Art, Mabel Smith Douglass Galleries, "Alive at the End of Life"

2008 Mediatheque de Nice, Gallerie Thiole, Nice, France "Little Things with Great Love: End of Life Care in Four Countries"

2008 - present Nice, France, Cimiez Hospital, Permanent Gallery, "Mémoire en face à face"

2006-2008 Munich, Germany + other cities, traveling exhibit "Alive with Alzheimer's"

2007 Nice, France, Acropolis, "Alive with Alzheimer's"

2007 Osaka, Japan, IPA Congress, "Gardeners of the Heart"

2007 Amarillo, TX, Southern Light Gallery, "Forgotten but Remembering; Remembered but Forgetting"

2007 Princeton, NJ, Bernstein Gallery, Woodrow Wilson School, Princeton University, "Long Term Care for the Dependent Elderly: Lessons from Mexico, California and Japan"

2006 Titusville, NJ, Janssen Cilag Art Gallery, "Long Term Care for the Dependent Elderly: Lessons from Mexico, California and Japan"

2006 Washington, DC, National Institute of Aging, "Alive with Alzheimer's"

2006 Cleveland, OH, Case Western Reserve Medical School, "Quality Care for Alzheimer's Disease"

2005 New Brunswick, NJ, Johnson and Johnson Art Gallery, "Long Term Care for the Dependent Elderly: Lessons from Mexico, California and Japan"

2005 Stockholm, Sweden, "Rx for Dementia: Touch, Music, Dignity"

2004 Cardiff, Wales, "Alive with Alzheimer's"

2004 Villefranche-sur-Mer, France, La Citadelle Galerie, "Alive with Alzheimer's"

2004 Kyoto, Japan, "Alive with Alzheimer's"

2004 Munich, Germany, Gasteig Cultural Center, "Alive with Alzheimer's"

2004 Baltimore, MD, "Alive with Alzheimer's"

2002 Nice, France, FNAC Photo Galerie, "Keeping the Connection"

2002 Maastricht, Netherlands, "Keeping the Connection"

GROUP EXHIBITS

2016 Sept. 21 - Dec. 15, Zurich, "Circle of Life" exhibition, 15 images of people 80 x 120cm in combination with German nature photographer Maike Piel at the European headquarters of Takeda Pharmaceuticals

2014 La Jolla, California, 20 photos in "Cultures of Care" exhibit at UCSD gallery

2013 Los Angeles, California, WIPI exhibit at Photo LA, two entries

2012 Nice, France, "The Brain", two photos in exhibit organized by Nice artist, Ben

2010 Los Angeles, CA 30 photo series, "A Long Hello" for special event on Best Documentary photography of 2009 at the Annenberg Center for Photography

2009 Houston, TX, 9 photos in Methodist Hospital exhibit, "Healing Journey: Animal Guides"

2007 Chardon, Ohio "Quality Care for Dementia" in Art from the Heart Exhibit

2004 Paris, France, Six photos, "Faith among the Forgotten", in Photobis,
Galerie Espace Saint Martin.


PHOTOGRAPHY BOOKS and ARTICLES by Cathy Greenblat

2013 "Memories of the Heart", Australian Journal of Dementia Care". June.

2012 Love, Loss, and Laughter: Seeing Alzheimer's Differently. Guilford CT; Lyons Press/ Globe Pequot

2011 "Guest Editorial : Changing images, changing visions, changing practices" , International Psychogeriatrics, 23: 9: 1361-1363.

2009 "Maladie d'Alzheimer", Plateform Magazine, juillet, vol 9, http://www.plateformag.com/

2009 C. Filleau, C. Greenblat, V. Lafont, P. Robert, Empreintes: Outil de formation des aidants et soin de patient Alzheimer par reminiscence. Institut Alzheimer, Paris.

2009 "Self-management of patients [with Alzheimer's disease] — Another perspective", with Francoise Guillo-Ben Arous and K. Jacob Roy. Chapter in Sabine Baehrer-Kohler, Self-Management of Chronic Disease: Alzheimer's. Heidelberg: Springer Verlag. (includes 9 of my photographs plus text)

2009-11 All illustrations for World Alzheimer's Report, 2009 and WAR 2010 and WAR 2011, published by Alzheimer's Disease International.

2006 Alzheimer und Lebensqualitat, Hamburg: EB-Verlag (German translation of Alive with Alzheimer's: 121 pp, 87 photographs)

2006 "Image d'une réussite: L'expérience du Japon", Gerontologie, 15 janvier. (Cover photo and 12 internal photos in this article I wrote about photographing in Japan.)

2004 Alive with Alzheimer's. Chicago & London: University of Chicago Press. (120 pp., 85 photographs)

2003 "Faith among the Forgotten", Contexts, 2,1 Feb 2003: 50-57. (Photo-essay about religion in a Mexican old age home)


All illustrations for 2 editions of the University of Bradford Dementia Care Programme (48 pp). Cover photographs: Rosalie Hudson (ed) Dementia Nursing: A Guide to Practice, Carol Bowlby Sifton, Navigating the Alzheimer's Journey: A Compass for Caregiving. Interior images in Dan Kuhn and Jane Verity, The Art of Dementia Care. Cover image, 4th edition of Dementia (textbook by David Ames et al); cover photo of Excellence in Dementia Care: Research into Practice, by Murna Downs and Barbara Bowers (Sept 2014); cover photos of 11 issues of the 2011 volume of International Psychogeriatrics; cover Dementia Positive by John Killick. Illustrations for publications by the Alzheimer's Associations of italy, Israel, India, and others. Web illustrations for web sites of people and organizations around the world that advocate for higher quality dementia care.


PHOTOGRAPHY LECTURES

2015 "Love Affairs to Remember: A Testimonial to Silverado", Keynote address at Silverado Senior Living 2015 Executive Retreat", Carlsbad, California, January.

2014 "Love, Loss, and Laughter: Changing Images, Changing Visions, Changing Practices", Keynote address, Annual conference of the Mississippi Mental Health Department, held in Meridian, August 20-22.

2014 "Love, Loss, and Laughter: From Seeing to Doing", Keynote address at Senior Health and Law Day, Annenberg Center, Eisenhower Hospital, Rancho Mirage, California.
http://www.LoveLossAndLaughter.com - Cathy@LoveLossAndLaughter.com

2014 "Life Enhancing Activities for People with Dementia", Jocelyn Senior Center, Palm Desert, California.

2013 "Beyond Entertainment: Photography and Other Arts in Dementia Care", Keynote address at Conference "Alzheimer's and Creativity", University of Haifa, November 12, 2013.

2013 "Arts, Hearts, and Minds: Photography, Music and Art and Dementia Care", University of Wollongong, Wollongong, Australia.

2013 "Arts, Hearts, and Minds: Photography, Music and Art and Dementia Care", Victoria Dementia Network, St. George's Hospital, Melbourne, Australia.

2013 "Arts, Hearts, and Minds: Photography, Music and Art and Dementia Care", National Ageing Research Institute (NARI), Melbourne, Australia.

2012 Keynote address, "Arts, Hearts, and Minds", 7th International Conference on Creative Expression, Communication, and Dementia, University of Worcester, UK

2012 "Seeing Alzheimer's Differently: Changing Images, Changing Visions, Changing Practices", Gladstone Institute of Neurological Disease and Grant Laboratory in Epidemiology and Clinical Studies, University of California San Francisco, San Francisco CA

2012 "Changing People's Minds About People's Changing Brains", Pace University, NYC, USA

2010 "Seeing Alzheimer's Differently: Changing Images, Changing Visions, Changing Practices", 2010 Richard and Hinda Rosenthal Foundation Lecture, Institute of Medicine, Washington, DC

2009 "Seeing Dementia Differently", Main speaker, Benefactor's Dinner, NJ Alzheimer's Association

2009 "Seeing Dementia Differently", Light House Gallery, Wolverhampton, GB

2009 "Seeing Dementia Differently", various versions of this presented in 12 talks in Delhi, Mumbai and Bangalore, India in a 3 week tour

2009 "Improving Palliative Care Awareness and Training with Visual Materials", with David Clark, European Association of Palliative Care Conference, Vienna, Austria (poster session)

2009 "Re-visioning the End of Life", Rutgers University, NJ, USA

2009 "What's Wrong with This Picture? Destigmatizing Dementia", Old Tyneside Hospital, Newcastle, GB and Old Age Psychiatrists' 25th Annual Conference, Cumbria, GB

2009 "The Memory Clinic: A Photographic Account", Hawker Care Conference, Edinburgh, Scotland

2008 "Photography, Illness and Dying Reconsidered", University of Texas Medical School, John P. McGovern Institute for Health, Humanities, and the Human Spirit.

2008 "'Little Things with Great Love': Palliative Care in Four Countries",Grand Rounds Presentation, Palliative Care Service, M.D. Anderson Cancer Center, Houston, Texas.

2007 "Holding On, Letting Go, Remembering: Photography, Illness and Dying" Museum of Fine Arts, Houston, Texas and University of Lancaster, UK

2006 "Photography and the Destigmatization of Dementia", University of Texas Medical School and University of Bradford (UK), Dementia Studies Program

2003 "Facing Alzheimer's" International Visual Sociology Association, Southhampton, England.


MEMBERSHIPS and LISTINGS

IVSA – International Visual Sociology Association: 2005- 2008, Executive Board IPA – International Psychogeriatric Association


UPDATE - SEPTEMBER - 2016 - APRIL- 2017

Photo CV SINCE 2002

My three year term as Honorary Professor at Glasgow Caledonian University concluded in 2014. My connection to the UK was recently renewed thanks to an invitation from Professor Dawn Brooker to be the TAnDEM Photographer in Residence at the University of Worcester beginning in July 2017. As I write this, I am just beginning to return to my photographic work following the loss of my husband… I'm not sure what lies ahead!

WEBSITES, BLOG, VIDEOS

I am in the process of updating the website www.LoveLossAndLaughter.com and an older more general one, www.cathygreenblat.com This section now should contain a reference to a trilogy of films produced in collaboration with Australian filmmaker Corinne Maunder and her company, FireFilms. These are all available on YouTube, and links to them appear on the websites of many academic and other programs devoted to high quality dementia care. Here are the details:

2014 "Finding the Why: Starrett Lodge", http://youtu.be/UK9NNJw4xUU
Winner of first prize in the Melbourne ReelHealth Film Festival, 2014. (The film was originally hosted on youtube here http://youtu.be/hZN1CyEiFNM where it has more than 8,000 hits, but the first link above is to the version that is properly credited to FireFilms and to Corinne and me)

2014 "It Takes a Community: Arcare Helensvale", http://youtu.be/hZN1CyEiFNM

2016 "Love Lives Here: Silverado", https://youtu.be/MogyKUGPsr0

EXHIBITS (one person and group)

The Circle of Life exhibit listed under group exhibits, hosted from September to December 2016 by Takeda Pharmaceuticals at their European headquarters, was actually a two person exhibit built around my photos of people dealing with various medical situations, ranging from the caesarean birth of my granddaughter, Anjali, to several photos from my end of life series and a new one, taken a few hours before the gentle passing of my husband, John in February 2016. That exhibit is due to travel to other countries, but the schedule is still not finalized. Takeda did a wonderful job of creating this exhibit, adding images of flowers, seascapes, and other nature photos by Maike Piel to "soften" the experience of looking at my more challenging images.

PHOTOGRAPHY LECTURES

2017 "Effective Use of Photography for Dementia Awareness and Education", my section of a workshop by Cathy Greenblat and Corinne Maunder on photography and video at the 2017 annual conference of Alzheimer's Disease International, Kyoto, Japan, April.

2016 "Dementia with Dignity: You Can Make a Difference", Keynote address at the Dementia Youth Awareness Symposium", Ryerson University, Toronto, Canada October

Women In Photography International Charter Member - since 2002
Cathy Greenblat
Palm Springs, CA
WIPI PhotoProfile
cathy.greenblat@gmail.com
www.CathyGreenblat.com

©Copyright for all images remains the property of exhibited photographer, and promotional use for Women In Photography International. All inquiries regarding use of and purchasing image use rights must be directed to the photographer

File GALLERY complete August 30, 2014
s-8/30
UPDATED: 5/05/2015 materials included: 3 binders, 1 book
UPDATED: 5/15/2015 - materials removed previous material photo, replaced with individual book
UPDATE: Phorograpehr response UPDATE: SEPTEMBER 2016 - APRIL 2017

UPDATE FINAL May 2017 COMPLETE website 1999-2017
womeninphotography.org file transfer to the Beinecke.
All organization files, computer, external hard drive, printed materials, photographs,
DVDs, books, competitions files and onsite installation art work.

BOOK Submitted to the Beinecke Library / WIPI file