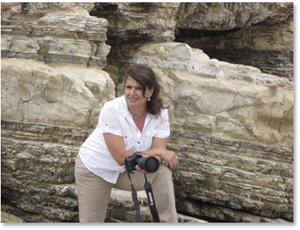 Brenda Maltese
From the age of nine, when I picked up my first camera, my dream was to become a photographer. Time and circumstances had other ideas and I became a yoga instructor. I taught yoga for 15 years, before I finally allowed my spiritual side to guide me to my true calling-Photography!

My passion has always been for the arts; painting, sculpting, and always the burning desire to create with my camera. Two years ago, I finally was in a position to begin a new phase in my life as a self taught photographer.

I moved to Santa Barbara County four years ago and am very inspired by my surroundings, I learned to seek subjects out that may otherwise be overlooked; things considered average or mundane, are very beautiful to me and I try to convey that in my photographs

Although I am fairly new to the world of photography, I have produced award-winning work that has been published and featured in several exhibits, allowing me to express and share my point of view of our world and its boundless beauty.

I will leave you with this one last thought; that I never truly saw the world and its gifts until I viewed it looking through the lens of a camera.

EXHIBITIONS

Photo LA 2014, 23rd International Photographic Art Exposition, Women In Photography International, January 2014, Postcards-New work and reflections of the past exhibition

Fall Juried Show, November 2013, Cypress Gallery, Lompoc, CA, Second place

2013 Photo LA, The 22nd Annual International Los Angeles Photographic Art Exposition, Women In Photography International presentation…..digital presentation, Transportation

New Times Winning Images, November 2012, Publication, San Luis Obispo New Times, Second Place

Art Takes Times Square, June 2012, Billboard presentation of 500 hundred artists from around the world, shown in Times Square


SPECIAL PROJECTS

Spirit Vision
Lompoc Civic Theater, Promotional Photography
Women In Photography International Charter Member

---
UPDATE - APRIL 2016 - APRIL 2017

Brenda Maltese died Sunday evening March 26, 2017 at the age of 56 from complications related to her battle with very aggressive anaplastic thyroid cancer.

A lover of fitness and the outdoors, Brenda was a yoga instructor and personal trainer for ten years, and ascended Mount Whitney with Reach the Top. She was also a member of the Lompoc Photographers Guild, Lompoc Civic Theatre, and Lompoc Museum. Her compassion for people led her to repeatedly volunteer for American Cancer Society fundraisers and Ventura County Stand Downs.

Brenda saw the beauty in everyone she met. She turned none away who asked for her help, and often went out of her way to assist those who did not ask. Even while she was battling cancer, she was always concerned more about those around her than herself. Her inner beauty lit up the room when she smiled, even during her final days and hours of life in the hospital.

Brenda is survived by her husband Benjamin, and child Nathan Watson. A memorial service will be held on Saturday April 1st at 1 pm, at Starbuck-Lind Mortuary in Lompoc. In lieu of flowers and memorial gifts, please send donations in her memory to City of Hope Los Angeles.

UPDATE: Obit notice MARCH 2017
Lompoc, California
Feb 25, 1961 - Mar 26, 2017
http://www.legacy.com/obituaries/name/brenda-maltese-obituary?pid=1000000184749494&view=guestbook
Women In Photography International Charter Member


Brenda Maltese (b. February 25, 1961 -d. March 26, 2017)
Lompoc, CA
WIPI PhotoProfile
maltesebe@comcast.net
brendamaltese - GOOGLE


©Copyright for all images remains the property of exhibited photographer, and promotional use for Women In Photography International. All inquiries regarding use of and purchasing image use rights must be directed to the photographer.

File: GALLERY & BIO complete - August 30, 2014
s-8/30
UPDATE: Obit notice MARCH 2017

UPDATE FINAL: May 2017 website content 1999-2017
womeninphotography.org file transfer to the Beinecke.
All organization files, computer, external hard drive, printed materials, photographs,
DVDs, books, competitions files and onsite installation art work