Reframings: New American Feminist Photographies
Diane Neumaier (Editor)
Foreword by Anne Wilkes Tucker
Format: Paperback, 336pp.
ISBN: 1566393329
Publisher: Temple University Press
Pub. Date: August 1998

Synopsis
This "is a collection of contemporary, photo-based artworks and critical essays that examines feminist perspectives on the politics of visual representation and its impact on women's lives... {Themes include} gender, ethnicity, sexual orientation, class, and age. The book is divided into eight... chapters that combine artworks and essays by known and unknown artists." (Choice)
From the Publisher
Concern about how women are represented, despite varied and often conflicting conceptions of feminism, is the underlying force in this collection. Eight critical essays grounded in feminist analysis explore the different issues that arise in these artists' visual representations, including social space, family life, child care, work, food, romance, sexuality, advertising, and consumer culture. They are feminist critics looking at feminist art, an act Diane Neumaier argues happens all too rarely as feminist critics have in the past busied themselves with critiquing dominant culture. Together these artworks and essays explore the dynamics of visual images and ideology, including expressions and interpretations of autobiographical photographic projects, self-representation of women's bodies, conflicting identities, and the relationship between photographer and

From Library Journal
Some of the 45 women artists presented here are well known (e.g., Nan Goldin, Susan Meiselas, Anne Noggle, Cindy Sherman, and Carrie Mac Weems)

These photographers attempt to "reframe" women in positions of power and authority or to present images that aim to shock us into confronting the reality of women's roles in society. While the quality of the writing and reproductions is uneven, this book would be a valuable addition to collections of contemporary photography or women's studies.Kathleen Collins, New York Transit Museum Archives, Brooklyn
Buy Reframings: New American Feminist... from Amazon


---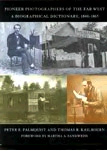 Pioneer Photographers of the Far West
A Biographical Dictionary, 1840-1865
Peter E. Palmquist and Thomas R. Kailbourn
Foreword by Martha A. Sandweiss
"A rare example of a readable and even entertaining reference book... here are tales of family drama and stories of business squabbles, accounts of the first women to pursue photography in the Far West, and the story of the first Chinese person to make pictures in San Francisco... A book which sets new standards for research and becomes an instant bible for anyone working in the fields of western American history or the history of photography."
"Distinguished by its imaginative breadth, its copious scholarship and its entertaining literary style, Pioneer Photographers of the Far West becomes the standard that future biographical compendia and photographic history books will aspire to match." From the Foreword by Martha A. Sandweiss
This extraordinarily comprehensive, well-documented, biographical dictionary of some 1,500 photographers (and workers engaged in photographically related pursuits) active in western North America before 1865 is enriched by some 250 illustrations, many of them previously unpublished.
pp. 704 ¾¾250 illustrations
cloth isbn: 0-8047-3883-1 ¾¾$125.00
Additional Books by Peter Palmquist

---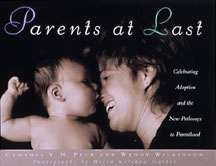 Parents at Last: Celebrating Adoption and the New Pathways to Parenthood
Cynthia V. N. Peck and Wendy Wilkinson, Photographs by Helen Kolikow Garber
For some, parenthood comes easily; for others, the path to parenthood is long and paved with challenges, not only physical but emotional and financial as well. In words and photographs, Parents at Last celebrates 32 couples and individuals who perservered in their quest to become parents, often in the face of formidable odds.
Hardcover: 50 b/w photographs
160 pages 11" x 8 3/4"
Clarkson N. Potter, Inc. ISBN 0-609-60290-X
Buy Parents at Last: Celebrating Adoption...from Amazon


---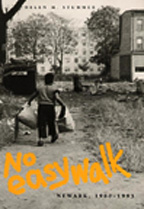 No Easy Walk, Newark, 1980-1993
Text and photographs by Helen M. Stummer
The book depicts the suburbanites journey into the ghetto, records what she has experienced and celebrates the human spirit.
"No Easy Walk is enormously moving. Carol and her neighbors come vividly to life. The author nicely avoids the customary condescension of too many visitors in poor communities and infuses Newark's Central Ward with all the mixture of sorrow and courage that its residents display...Carol emerges as a woman of tremendous strength and dignity. I hope the book is widely read." - Jonathan Kozol.
Along with meaningful and compassionate photographs, Stummer has provided a brief history of Newark, highlighting its early strengths and clearly itemizing the steps along its decay.
Temple University Press
Philadelphia, 1994
140 pp 16x7
Softcover ISBN 1-566 39-242-x
Hardcover ISBN 1-566 39-243-8
Available at Barnes and Noble.
---
A History of Women Photographers by Naomi Rosenblum
Here is yet another publication that strives to rescue from oblivion the neglected achievements of women in the visual arts. Juxtaposing the past 155 years of photographic history with events from women's social history, Rosenblum (A World History of Photography, LJ 2/1/85) documents women's contributions to the technological, artistic, and experimental development of photography. Her feminist narrative explores women's creativity both as a means of self-expression and as a lucrative profession. The 36 color plates, along with over 200 black-and-white illustrations, include fine examples of portraiture, advertising, and photojournalism. The last section contains valuable thumbnail biographies of approximately 240 female photographers-from the obscure to the famous-whose illustrations appear in the text. An ambitious bibliography makes this a prime tool and stimulus for researchers. Highly recommended for photography, women's studies, and young adult collections. -- From Library Journal Joan Levin, MLS
Hardcover, 2nd ed., 400pp.
ISBN: 0789206587
Abbeville Press, Incorporated
August 2000
Buy A History of Women Photographers from Amazon
---
PREVIOUS
top
BEGINNIG
Allworth Books
Self-Help Catalog